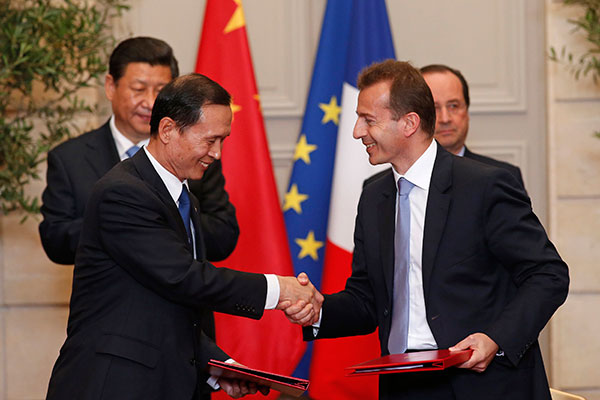 Guillaume Faury (R), Chief Executive of Airbus Helicopters, and Li Fangyong, Vice-President of AVIC group, exchange documents during a signing ceremony for the production of the EC175/Z15 helicopter at the Elysee Palace in Paris March 26, 2014. French President Francois Hollande (R Rear) and China's President Xi Junping (L Rear) attend the ceremony. [Photo / Agencies] 
China's Avicopter, part of the Aviation Industry Corporation of China (AVIC), has signed a deal with Airbus Helicopters to jointly produce 1,000 new generation civilian helicopters, People.cn reported.
Airbus Helicopters, formerly Eurocopter, is a subsidiary wholly owned by the Airbus Group, a global aerospace and defense leader.
Chinese President Xi Jinping and his French counterpart Francois Hollande witnessed the signing of the agreement - which concerns EC175/AC352 helicopters - at the Elysee Presidential Palace in Paris on March 26.
Avicopter will produce the AC532 mainly for the Chinese market, while Airbus Helicopters will offer the EC175 to the global market.
Li Fangyong, vice-president of AVIC Group said the agreement will enable their products to meet the market demand, and also allow the company to better fit into the industrial chain.
The Airbus Helicopters CEO Guillaume Faury, said the agreement will lead to good results for both sides, and "sets the stage for an unprecedented full-scale production framework by both partners and adds a new dimension to the relationship with Avicopter."