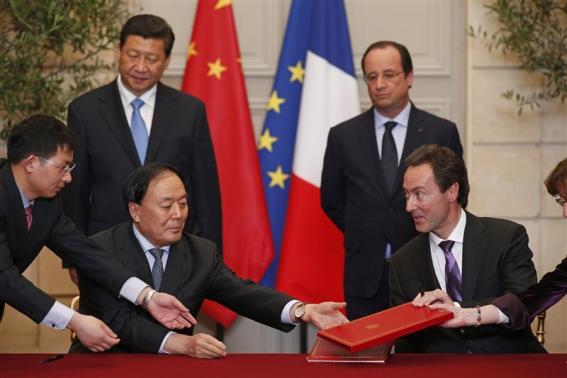 Fabrice Bregier (R), Airbus President and Chief Executive Officer, and Li Jiaxiang, Administrator of the Civil Aviation Administration of China (CAAC) exchange documents during a signing ceremony at the Elysee Palace in Paris March 26, 2014.  [Photo/Agencies]
PARIS - China signed a new 10-year accord on Wednesday allowing Airbus to assemble A320 planes on its soil until 2025 and unblocked orders for larger jets worth more than $6 billion, restoring ties after a row with Europe over aircraft emissions.
Watched by visiting President Xi Jinping and his French counterpart Francois Hollande, Chinese officials in Paris also signed deals to co-produce 1,000 French EC-175 helicopters over 20 years with Airbus Group's helicopter division and to co-operate on turbo-prop engines with France's Safran.
The A330 orders that got the go-ahead on Wednesday had been suspended during a trade row triggered by China's opposition to a European Union plan forcing airlines to join an emissions mechanism that China feared could harm its carriers.
Airbus said China had a
gree
d to buy a total of 70 aircraft including 43 A320-family airplanes and had gone ahead with previously frozen orders for 27 Airbus A330 aircraft - deals worth a combined $10.2 billion at catalogue prices.
But it failed to make headway in efforts to expand sales of its most popular wide-body aircraft by offering a new version of its A330, specially tailored for China's domestic market. Airbus is prepared to open a second industrial plant for this project.
Airbus opened its first non-European aircraft assembly plant in the port city of Tianjin in 2009 and has been negotiating for months to extend the local production venture beyond 2016.
The factory and land have capacity to increase to 8 aircraft a month and could play a major role as Airbus, and its larger US rival Boeing, increase production to keep up with demand.
For the time being, production will remain at 4 a month, Airbus head Fabrice Bregier told Reuters.
China is the world's fastest-growing aviation market despite a slowdown in its economy, with a surge in outbound travelers fuelling the expansion.
But deals announced during the French phase of Xi's first presidential visit to Europe fell short of expectations that China would back the new regional model of Airbus A330 and sign a total of 150 jet orders worth as much as $20 billion.
"The extension of the Tianjin agreement secures production of 1,000 A320 aircraft over 10 years and these will be the subject of future orders," Bregier told Reuters.
He reiterated there was a potential market for 200 of the new regional types of A330 offered for China's domestic market. Industry sources say Airbus has been locked in a battle with Boeing for that slice of the busy domestic market.
Bregier said Airbus hoped to make progress within a year on discussions over a possible cabin completion center for the A330 which is expected to be placed in Tianjin, alongside the existing A320 assembly plant.