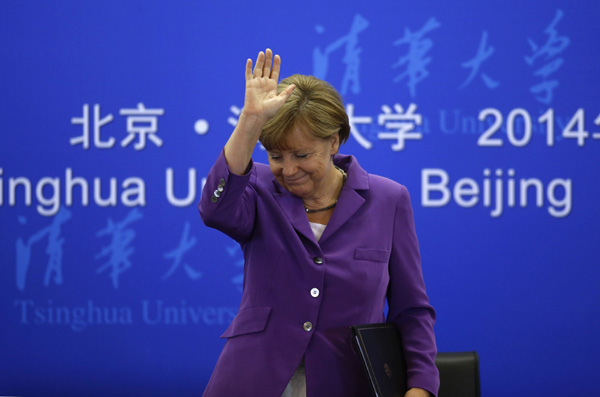 Germany's Chancellor Angela Merkel waves her hand to the audience as she leaves the venue after making a speech at Tsinghua University during her visit to China, in Beijing July 8, 2014.  [Photo/Agencies]
Citing Germany as an example, visiting German Chancellor Angela Merkel emphasized the importance of having a correct understanding of history in her keynote speech on Tuesday at Tsinghua University in Beijing.
Asked to comment on Japan's attitude toward the history of World War II, Merkel said she did not have the right to comment on the Japanese government, but from Germany's point of view, "it is important not to let the tragic history repeat".
The Japanese government decided on July 1 to revise its constitution to lift the ban on the right to collective self-defense which triggered concern from neighboring Asian countries, including China.
After World War II the German people reconsidered their activities during the conflict, Merkel told young Chinese students. Although it is a "miserable" process, it is in the right way to "have a correct understanding of historical issues", she said.
Beijing was the second leg of Merkel's China visit this time. She earlier visited Chengdu, the capital of southwestern Sichuan province, where she attended an urbanization forum and visited joint venture projects between Chinese and German companies there.
Merkel said she now understands more about the development challenges Chinese cities such as Chengdu are facing, emphasizing the importance of sustainable development in the process of urbanization.
"Sustainable development does not mean to sacrifice economic growth," she said. It offers opportunities to create a better life with new ways, and German enterprises have an interest in cooperating with Chinese companies in the sectors of urbanization and environmental protection, she added.
The Chancellor told young students that sustainable development not only means economic development, it is also about maintaining legal and fiscal systems in society.
"Merkel's speech has broadened my understanding on sustainable development," said Chen Guo, 24, a master in bioscience at Tsinghua University.
"I've known that sustainable development is not only about economy, but also about science and technology and social development," he said.
Li Fengyi, 19, a freshman in aeronautics and astronautics, said sustainable development also plays an important role in the manufacturing of space vehicles and she "will pay more attention to the topic in her future study."
Related:
Deals mark close China-Germany relations