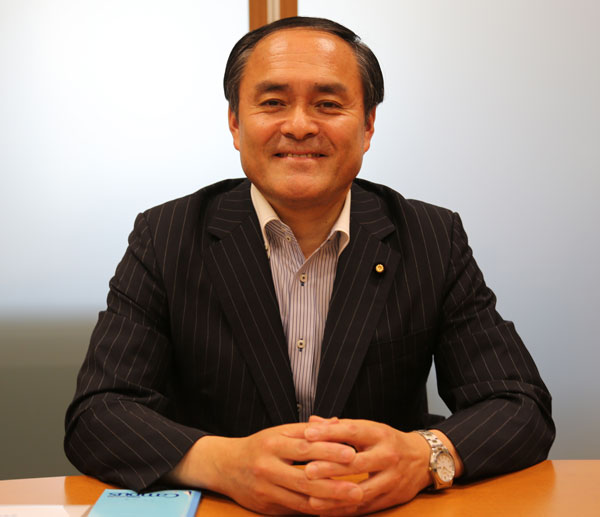 Tadatomo Yoshida, Japan's Social Democratic Party leader.
Tadatomo Yoshida, Japan's Social Democratic Party leader, said he will use his upcoming trip to Beijing to sound out the Chinese government about a possible summit between the nations.
"I will ask the Chinese government for its conditions on a summit meeting between Chinese leader Xi Jinping and Japanese Prime Minister Shinzo Abe," Yoshida said in an exclusive interview with China Daily.
After his trip from June 23 to 25, he said he will relay his discussion with the Chinese government to the Abe Cabinet and Japan's parliament.
"We are trying to find a way out of the stalemate between Japan and China," the SDP leader said.
Yoshida said Abe has not had a meeting with Xi mainly because of the Japanese prime minister's December visit to the Yasukuni Shrine, where 14 Class-A war criminals are enshrined.
"This matter exposes how the two countries are divided on their viewpoints of history," he said.
The SDP delegation, led by Yoshida, comes on the heels of visits to Beijing by several groups of Japanese officials and lawmakers in April and May.
After Tokyo Governor Yoichi Masuzoe's visit to Beijing in April, Masahiko Koumura, vice-president of Japan's ruling Liberal Democratic Party, led a delegation from the Japan-China Friendship Parliamentarians' Union to Beijing in early May. He conveyed Abe's message of holding talks with Xi on the sidelines of the Asia-Pacific Economic Cooperation forum in Beijing in November.
A day after Koumura's delegation left, a group of LDP lawmakers landed in Beijing.
"All these trips are good because they help inform the Chinese side of what is going on in Japan," Yoshida said. "But they shouldn't be done unilaterally (by the ruling party)."
The SDP, one of the opposition parties in Japan, doesn't trust Abe's viewpoint on history, Yoshida said.
In 1995, the socialist Tomichi Murayama, the former prime minister of Japan from 1994 to 1996, issued his "heartfelt apology" for atrocities Japan committed in World War II.
"The landmark 1995 statement that carries his name has played a vital role in the development of the Japan-China ties," Yoshida said.
He said he is proud of being Murayama's successor and of inheriting and developing the essence of his statement.
"First of all, Japan should do some soul-searching on the Pacific War and the pain it inflicted on other Asian countries," the SDP leader said. "Based on that, bilateral relations can move forward."
He said it is important for the two countries to talk.
"The guiding principle we hold is that Abe should announce explicitly that he will no longer visit the Yasukuni Shrine," Yoshida said. "As long as Abe continues to visit the shrine, his words that the door to cooperation is always open can't be accepted by China."
There have been trade talks between the two countries in recent months. The two countries' trade ministers held discussions for the first time in two years in May and agreed to strengthen economic cooperation.
Kiyoyuki Seguchi, research director of the Canon Institute for Global Studies, said that although official communication between the two governments is at its historical worst, the guiding principle of the Chinese government is to separate politics from the economy.
He said Japan should abolish its tourist visa for Chinese travelers in an attempt to promote exchanges in business and culture between the two countries. He also said the two countries need to make efforts to deepen a mutual understanding about history.
"China's development is Japan's development, and vice versa," Seguchi said.
"I hope Abe can return to the starting point," Yoshida said.
This is the SDP's first visit to China in nine years.
caihong@chinadaily.com.cn