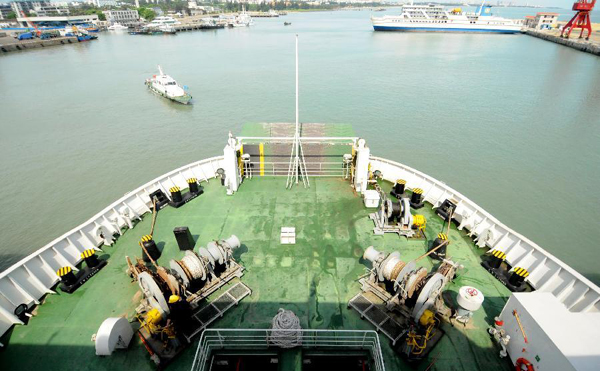 Passenger ship "Wuzhishan" leaves for Vietnam from Xiuying port in Haikou, capital of South China's Hainan province, May 18, 2014.[Photo/xinhuanet] 
Latest updates:
The first of the ships China has dispatched to evacuate its nationals affected in the recent violence in Vietnam left this port on Monday with 989 evacuees.
VUNG ANG, Vietnam - Four chartered ships tasked with evacuating Chinese nationals from riots-hit Vietnam arrived at the central Vung Ang port on Monday.
Wuzhishan, helped by Vietnamese navigators, sailed into the port at 10:18 a.m. local time (0318 GMT).
The other three Chinese ships, Tongguling, Baishiling and Zijing 12, also arrived in an area outside the port early Monday. They were waiting to be allowed into the port.
The ships will bring home Chinese workers who were attacked in recent deadly anti-China riots.
Xinhua correspondents at the port said the weather was fine and the tide was low, which was favorable for the Chinese workers to get aboard the ships.
A Chinese government work group was in collaboration with the Vietnamese side at the port to help the Chinese workers evacuate.
Protests targeting foreign companies in southern Vietnamese provinces turned violent Tuesday, which had left at least two Chinese dead and more than 100 injured.
The anti-China looting and arson came after Vietnamese ships and personnel repeatedly harassed the normal operations of a Chinese oil company in waters only 17 nautical miles from China's Zhongjian Island, part of Xisha Islands, in the South China Sea.