Free trade deal tops agenda as 2-day Senior Officials' Meeting begins
Senior officials from 21 economies of Asia-Pacific Economic Cooperation called on Wednesday for establishing a more open, integrated and productive market to create new growth opportunities.
The remarks came at the opening of the APEC 2014 Senior Officials' Meeting in Qingdao, Shandong province.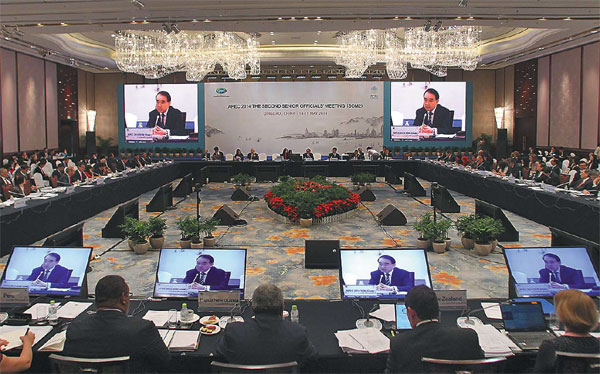 Vice-Minister of Foreign Affairs Li Baodong speaks during the APEC 2014 Senior Officials' Meeting on Wednesday in Qingdao, Shandong province. Zou Hong / China Daily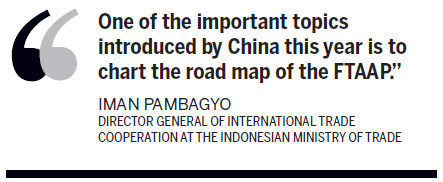 "Recovery in the Asia-Pacific is progressing, but growth remains uneven, and its medium-term trajectory has dropped a notch due to sluggish trade and factors like reduced productivity. APEC economies recognize that there are no quick fixes and are taking a long view in their policy calculations."
Alan Bollard, executive director of the APEC secretariat
"Production networks that span multiple economies are prevalent in our region. This makes standardized product identification codes and data infrastructure across multiple economies increasingly important for effective and efficient border management and supply-chain performance."
John Larkin, chair of the APEC Committee on Trade and Investment
"APEC has set goals and made good progress on structural reform, connectivity, infrastructure and ease of doing business. However, APEC could consider establishing an APEC-wide education initiative and targeted goals to address this middle-income challenge."
Eduardo Pedrosa, secretary-general of the Pacific Economic Cooperation Council
"Building on APEC's successful work over the years on economic integration, trade and investment liberalization and structural reform, APEC is well-positioned to help developing economies avoid the middle-income trap and graduate into high-income status."
Tan Jian, senior APEC official from China
The meeting aims to advance negotiations and implementation of comprehensive, high-quality trade agreements. APEC officials said the meeting also seeks to improve coordination between participants and work on creating the Free Trade Area of the Asia-Pacific.
Foreign Affairs Vice-Minister Li Baodong said in the opening ceremony that delegates will exchange opinions, chart the next step for regional economic cooperation during the two days of meetings, and hopefully present a clearer outlook toward this year's final Economic Leaders' Meeting.
"In the coming days, we will improve cooperation initiatives, design outcome frameworks and further consolidate a consensus," Li said.
Iman Pambagyo, director general of International Trade Cooperation at the Indonesian Ministry of Trade, said he will continue to discuss regional economic integration during the meeting, as the subject has been an APEC priority for years.
"One of the important topics introduced by China this year is to chart the road map of the FTAAP," Pambagyo said.
Beijing will host the Economic Leaders' Meeting on Nov 10 and 11 in Yanqi Lake, a resort town 50 km north of downtown Beijing.
China has introduced three priorities for the leaders' meeting: advancing regional economic integration; promoting innovative development, economic reform and growth; and strengthening comprehensive connectivity and infrastructure development.
"The leaders' meeting is just six months away. We are already at the midpoint of China's APEC year. What we should do now is fulfill historic missions, draw more strength from the partnerships, and have more openness, inclusiveness, mutual benefits and win-win results," Li said.
"During the process, we should pay attention to both global trends and practical needs by member economies. We should try to strike a balance between continuity and innovation," he added.
Li said affected economies should pay attention to conclusions and recommendations, improve initiatives and bring cooperation to an even higher level.
Paulina Nazal, director for Multilateral Economic Affairs at the Chilean Foreign Ministry, said the topics that China has laid out not only build on the work that the forum has already done, but also continue the work in areas that are of interest to regional economies.
"Regional economic integration is an integral part of the mandate and spirit of APEC. Innovative development has been in place because traditional growth models are no longer viable for our economies, and that is why APEC members have shown great resilience in international turmoil," Nazal said.
She said Chile welcomes China's leadership, hard work and meaningful contributions in advancing Asia-Pacific regional economic integration and fostering concrete steps toward creation of the FTAAP.
In 2001, China hosted the top regional forum in Shanghai while the country was the seventh-largest economy in the world. Today, APEC's 21 member economies together account for about half of world trade and 60 percent of total gross domestic product.
Alan Bollard, executive director of the APEC Secretariat, said the discussions taking place between APEC economies in Qingdao are the key to driving the process of regional economic integration.
"Our task is to ensure that the policies we put in place and the agreements we negotiate to lower trade barriers and boost domestic consumption-based growth are complementary, inclusive and keep us all moving in a positive direction," Bollard said.
Yao Jing contributed to this story.
puzhendong@chinadaily.com.cn