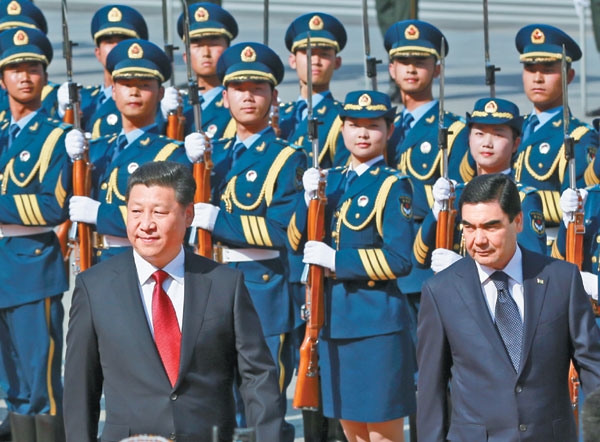 President Xi Jinping accompanies his counterpart from Turkmenistan Gurbanguly Berdymukhamedov in reviewing a guard of honor, which included women for the first time, outside the Great Hall of the People in Beijing on Monday. Photos by Feng Yongbin / China Daily
Xi hails gift of precious animal as symbolizing nations' friendship
As diplomatic gifts go, this one came from a stable of thoroughbreds, literally.
Turkmen President Gurbanguly Berdymukhamedov presented a precious Akhal-Teke horse to China on Monday during his four-day state visit that started on Sunday.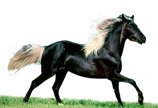 The presidents of the two nations, which are each other's biggest gas trade partners, also vowed on Monday to strengthen comprehensive cooperation on gas.
"Akhal-Teke horses have become messengers and witnesses to the friendship of the two nations," President Xi Jinping said as he addressed a session of the 2014 International Akhal-Teke Horse Association Special Conference, which opened in Beijing on Monday after his meeting with Berdymukhamedov.
The horse knelt in front of Xi after being led to the president at the opening ceremony for the conference.
It is the first time that the conference, initiated by the Turkmen president, has been held outside his country.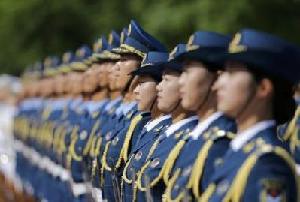 Welcome to China
Protocol reforms for greeting foreign leaders since the new leadership took office
1. Female honor guards
A guard of honor including women made its debut on Monday as President Xi Jinping hosted a welcoming ceremony for Turkmen President Gurbanguly Berdymukhamedov. Members were recruited in February by the Beijing Military Area Command. Some 90 percent of them have been educated to junior college degree level or above and their average height is 1.72 meters. According to military officials, female guards of honor should be about the same height and must undergo rigid training.
2. Marching band
A military band to greet visiting heads of state in Beijing is one of the fixtures at any welcoming ceremony, and bands are usually stationed in a prearranged position. But on Monday, the welcoming ceremony included a marching band of 43 musicians. The band changed formation as it marched and played the patriotic song Ode to the Motherland.
3. Trumpeters
Introduced last year, three trumpeters play several sharp bursts of music as visiting guests move from their vehicle to the welcoming ceremony. The guests are then formally greeted as they step onto the red carpet.
4. Young people
Students from elementary schools in Beijing have been adding a touch of color to welcoming ceremonies since they were reintroduced last year. The students are a major attraction as they stand in line along the red carpet in front of the Great Hall of the People to welcome guests.
The horse sent to China will not lack for company as two others from the famed breed, also presented by Turkmenistan, are at the Hanxue Baoma Breeding Center in Tianjin, built specially for the species.
The horses have a deserved reputation for speed, endurance and intelligence. They also have a distinctive metallic sheen that makes them appear to almost shimmer.
They are one of the oldest breeds and there are some 6,000 Akhal-Tekes in the world, mostly in Turkmenistan and Russia.
They have played a rich part in China's history for more than 2,000 years. The first recorded instance of an Akhal-Teke can be traced to 113 BC when Emperor Wudi of the Western Han Dynasty (206 BC-AD 24) owned one.
In 2000, when then-president Jiang Zemin visited the Central Asian country, the first Chinese leader to go to Turkmenistan after its independence from the former Soviet Union, he was presented with a horse as a token of gratitude for Chinese support.
The horse presented to Jiang, Ahdashi, had been kept at the presidential horse-training center. The horse was flown to China on a special charter flight, according to Liu Zhongyuan, manager of the center.
In 2006, when Berdymukhamedov visited China, he brought another Akhal-Teke, Arkadag, and presented it to then-president Hu Jintao.
Arkadag and Ahdashi stay at the same center and are bred with Arabian horses, with the foals sent to equine associations and centers around China.
Arabian horses are used, as Akhal-Teke mares are rare and cost about $10 million each.
Li Zhe, chairman of Beijing Chinese Business Association and co-owner of most Akhal-Teke horses in China, said there are more than 200 pure Akhal-Tekes in the country.
Li and his partners are raising more than 130 in a Beijing suburb and building a breeding center so that more people can see the rare species.
Yang Cheng, deputy director of the Center for Russian Studies at East China Normal University in Shanghai, said the gifts reflect Turkmenistan's solid and stable ties with China.
Turkmen Ambassador to China Chinar Rustamova said there is a fitting symbolism to the gift, as this is the Year of the Horse.
On Monday, the two presidents also signed a treaty of friendly cooperation, a joint declaration to deepen the strategic partnership and a plan for cooperation from 2014 to 2018.
They also officiated at the signing of 13 other cooperation documents on fields ranging from energy and finance to agriculture.
China consolidated its position as the top importer of Turkmen gas at a ceremony on May 7 to open a new plant at a major field in Turkmenistan.
The desert nation sits on the world's fourth-largest reserves of natural gas. The newly opened processing plant helps feed the 7,000-km pipeline to China.
Xi told reporters on Monday that China and Turkmenistan will strive for an early start on the construction of the pipeline's Line D and expand cooperation on oil and gas processing.
Contact the writer at lixiaokun@chinadaily.com.cn