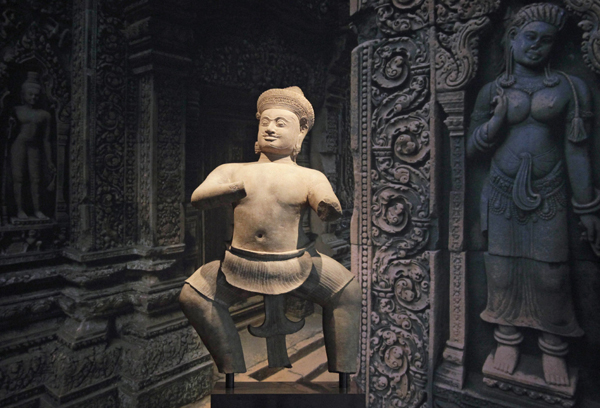 Cambodia's statue of a temple wrestler, titled Bhima, is on display at the Norton Simon Museum in Pasadena, California, in December. The 10th-century sandstone statue will return to its place of origin in Cambodia following discussions and agreements with Cambodian state officials. Jae C. Hong / Associated Press
The Norton Simon Museum in California has agreed to return a 10th-century statue that may have been looted from a Cambodian temple during that country's genocidal civil war in the 1970s.
Temple Wrestler, a sandstone figure missing its hands and feet, has been displayed at the museum for nearly four decades. The 1.5-meter-high work depicts Bhima, a heroic figure in the Hindu epic Mahabharata, in a fighting pose.
The sculpture is one of three being returned to Cambodia from the US.
Representatives of the museum met with Cambodian officials this year and are returning the statue "as a gesture of friendship, and in response to a unique and compelling request by top officials in Cambodia to help rebuild its 'soul' as a nation," the Pasadena museum said on Tuesday in a statement.
"The Norton Simon properly acquired the Bhima from a reputable art dealer in New York in 1976," the museum said. "However, the facts about the Bhima's provenance prior to the dealer's ownership are unclear because of the chaotic wartime conditions in Cambodia during the 1970s."
Cambodian officials believe it was looted from the 1,000-year-old Prasat Chen temple. Arrangements for the return have not yet been announced.
The decision marks the latest progress in efforts to bring back together nine figures that once formed a tableau in a tower of the temple. The scene captured a famous duel in Hindu mythology in which the warrior Duryodhana is struck down by his cousin Bhima at the end of a bloody war of succession while seven attendants look on.
The figures of three onlookers to the duel are now in Cambodia, including two that were returned in June by New York's Metropolitan Museum of Art.