Day 6
20:00 March 13
The cooperation between China and Vietnam in the search for a missing Malaysian plane is materialized by Hanoi's quick approval to Beijing's request for access to its water and airspace, a Vietnamese official said on Thursday.
18:30 March 13
Two Indian ships from Andaman island Thursday join search for missing Malaysia Airlines MH370 which carries 239 passengers, local media NDTV reported.
18:00 March 13
Malaysia's Transport Minister dismissed claims that the missing jet continued to fly for four hours after it lost contact with air traffic controllers.
Nothing has been found at the site where Chinese satellites spotted three floating objects, he added.
He also denied that Malaysian police raided home of MH370 chief pilot
16:00 March 13
India's defence ministry ordered the deployment of ships, aircraft and helicopters from the remote Andaman and Nicobar Islands on Thursday to search for the missing Malaysian airliner.
15:30 March 13
Malaysian Airlines says it will stop using flight number MH370/371, and will instead use MH318/119 effective March 14.
15:00 March 13
The Malaysian air force Thursday morning sent an aircraft on an 8-hour search mission in areas around Subang, Penang, Phuket and Andaman Sea, but found no trace of the missing jet liner, the pilot of the mission said.
12:55 March 13
US investigators suspect that Malaysia Airlines Flight MH370 stayed in the air for about four hours past the time it reached its last confirmed location, Wall Street Journal reported.
12:10 March 13
Vietnam search finds no wreckage at location where China satellite shows possible plane debris, Reuters witnessed.
11:53 March 13
China's Civil Aviation Administration (CAAC) has proposed sending an expert team to help search for the missing Malaysian plane MH370, the administration's deputy director Xia Xinghua said  during a meeting with Malaysian officials.
11:10 March 13
Highlights of 17th Media Statement of Malaysia Airlines:
As a mark of respect to the passengers and crew of MH370 on March 8, 2014, the MH370 and MH371 flight codes will be retired from the Malaysia Airlines' Kuala Lumpur- Beijing-Kuala Lumpur route.
With effect from March 14, 2014, the new flight number to replace MH370 and MH371 will be:-
MH318 – Kuala Lumpur - Beijing
MH319 – Beijing - Kuala Lumpur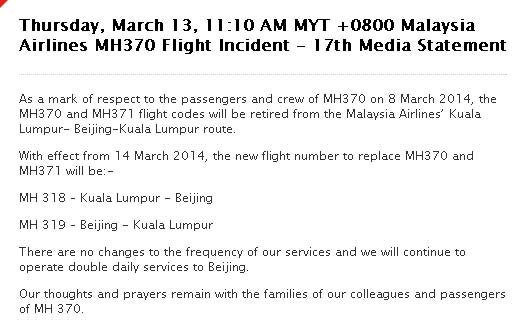 (www.malaysiaairlines.com)
10:50 March 13
China will not give up any hope of finding jet
Premier Li Keqiang said at the press conference shortly after the conclusion of China's annual legislative session that will not give up its efforts in searching for the missing Malaysia plane as long as there is a glimmer of hope and urged other countries to help locate the plane as soon as possible. China has launched comprehensive emergency response, sent 8 vessels, with one more on its way, to join the international rescue effort, and mobilized 10 satellites. See live report of the press conference
10:25 March 13
Malaysia's Transport Minister Hishammuddin Hussein said the country has dispatched an aircraft to the site where Chinese satellites photographed three "suspected floating objects" in the search for a missing Malaysia passenger jet.
10:00 March 13
A Chinese satellite has found three floating objects in the suspected site of missing Malaysian plane, according to the State Administration of Science, Technology and Industry for National Defence (SASTIND).
"Chinese satellites have found smoke and floating objects ... At present we cannot confirm this is related to the missing aircraft," Li Jiaxiang told reporters on the sidelines of China's annual meeting of parliament. He added that there was also no evidence the Malaysian military was concealing information about the missing flight.
9:10 March 13
The Chinese joint working group dealing with missing Malaysia Airlines flight MH370 has been given permission to open an official microblog account on Sina Weibo, publicizing the work of the group and Chinese embassy in Malaysia.
3:13 March 13
Indian Air Force and the Navy have kept their aircraft on standby and are waiting for final instructions for taking part in the search operations for locating the missing Malaysian plane, said Indian Defense Ministry Wednesday.
1:00 March 13
Highlights of 16th Media Statement of Malaysia Airlines:
Malaysia Airlines wishes to clarify the claims that some families of the passengers were flown to India instead of Malaysia. This is not true.
Malaysia Airlines flies directly from Beijing to Kuala Lumpur without a transit. There are also no Malaysia Airlines' direct flights from Hong Kong to Mumbai or any part of India.
The welfare of both the crew and passenger's families remain our focus. At the same time, the security and safety of our passengers is of the utmost importance to us.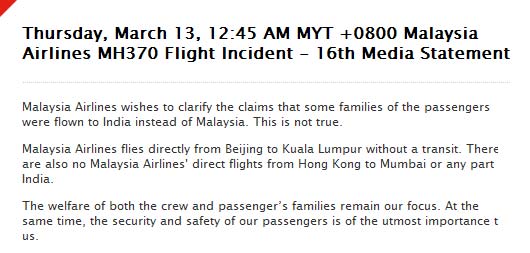 (www.malaysiaairlines.com)