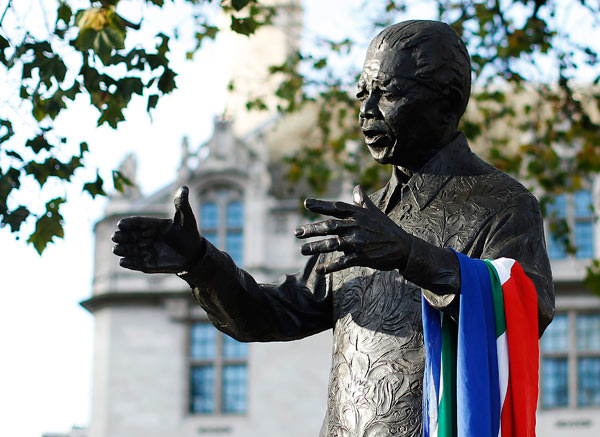 A South African flag is draped over the arm of the statue of former South African President Nelson Mandela in Parliament Square in central London December 8, 2013. [Photo/Agencies]
In an affluent and predominantly white suburb of the capital Pretoria, parishioners prayed for Mandela at what was once a worship center for pro-apartheid government and business leaders. They prayed in silence as a picture of Mandela was beamed onto the wall above the church's pulpit, the event starkly highlighting the enormous changes that have come to this country.
Pastor Niekie Lamprecht of the Dutch Reformed Church of Pretoria East said the congregation's overwhelmingly white 1,600 parishioners have changed, and that Mandela himself was the driving force. The idea of showing a picture of him inside the church two decades ago would have been unthinkable.
"What helped the white people of South Africa was Mr. Mandela's attitude," Lamprecht said. "He said, 'Let's forgive,' and he forgave. That created a space for people to feel safe ... at a time when the expectation was that there was going to be a war."
A service was also held at St. George's Cathedral in Cape Town, where a prayer was said for a man whose journey from prisoner to president inspired the world.
"May his long walk to freedom be enjoyed and realized in our time by all of us," worshippers said in a prayer.
Ahmed Kathrada, who was sentenced to life in prison with Mandela in 1964, said he was informed shortly before Mandela's death on Thursday night that his old friend was about to die.
Kathrada said Graca Machel, Mandela's wife, conveyed the message to him through another person that "the doctors have said, 'Anytime.'"
A national memorial service for the man who, as the country's first black president forged a new multiracial, democratic South Africa, will be held at a Johannesburg stadium on Tuesday.
Mandela's body will lie in state at the Union Buildings, the seat of government in Pretoria, from Wednesday to Friday, followed by his funeral and burial in Qunu next Sunday.
Among those who have already indicated that they will be coming to South Africa are US President Barack Obama and his two predecessors, George W. Bush and Bill Clinton.
UN Secretary General Ban Ki-moon will also travel to Johannesburg for the memorial service.
Other leaders and dignitaries who have confirmed that they are coming include French President Francois Hollande, Brazilian President Dilma Rouseff, Cyprus' Parliamentary Speaker, Yiannakis Omirou, Danish Prime Minister Helle Thorning-Schmidt, Crown Prince Frederik of Denmark, Haitian Prime Minister Laurent Lamothe, Norwegian Prime Minister Erna Solberg and Crown Prince Haakon of Norway.
King Willem-Alexander and Foreign Minister Frans Timmermans will attend on behalf of the Netherlands.