Trump recognition of Jerusalem as Israeli capital would raise regional tensions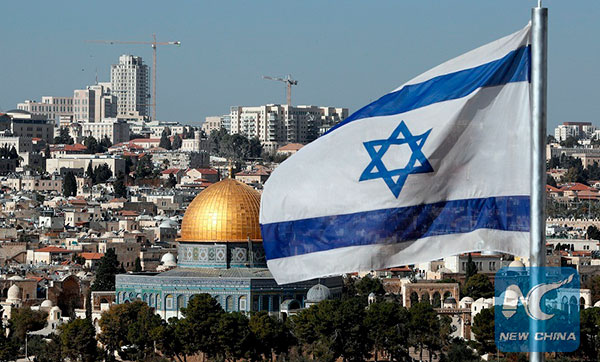 Palestinians say the US will set off "ticking bomb" if it recognizes Jerusalem as Israel's capital and moves US embassy to Jerusalem. [Photo/Xinhua]
JERUSALEM - In a welcome move to some and a controversial move to others, US President Donald Trump is reportedly expected to recognize Jerusalem as Israel's capital later this week.
Any such announcement has inflammatory potential in an already volatile region.
Israel has controlled the western part of Jerusalem since its inception in 1948. In 1967, after the Mideast war, Israel captured the eastern part of Jerusalem from Jordan and declared both parts it's united capital.
The move was never recognized by the international community, including Israel's closest ally, the US.
The Palestinians see eastern Jerusalem as the future capital of their state.
Jerusalem is home to all of the Israeli government offices and while foreign embassies are situated in Tel Aviv, dealings with the Israeli government are done largely in Jerusalem, the capital that no one recognizes.
Jerusalem is home to sites holy to Islam, Judaism and Christianity, making it a focal point for many people around the globe.
Now, in what seems to be an attempt to appease both Israel and his constituents on the evangelical right, Trump may recognize Jerusalem as Israel's capital in order to cushion the blow on an undelivered election promise, transferring the US embassy from Tel Aviv to Jerusalem, another controversial move.
It is still unclear, however, whether the US will make such a move, and if so, will it recognize both sides of Jerusalem as Israel's capital? Or just the western side?
"Trump is a friend of Israel and he thinks that recognizing Jerusalem as Israel's capital and recognizing the historic links between the Jews and the city is the right thing to do," Prof. Efraim Inbar, President of the Jerusalem Institute for Strategic Studies, told Xinhua.
Inbar believed Trump will be "ambiguous" about what part of Jerusalem the US will recognize.
"Nobody really disputes Israeli sovereignty over west Jerusalem," Inbar added. While there is a de-facto recognition of western Jerusalem as Israel's capital, this sovereignty remains unrecognized by the whole of the international community.
Up until now, both Israelis and Americans have repeatedly said that the status of Jerusalem needs to be determined in bilateral negotiations between Palestinians and Israelis.
American media has quoted US Defense officials saying a new policy on Jerusalem would endanger American diplomatic missions worldwide, further highlighting how delicate the matter is.