Government: Sharing economy expected to grow 40% annually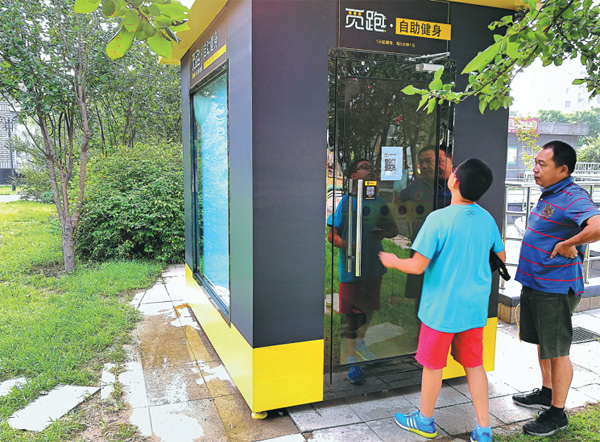 A self-service fitness booth developed by Beijing-based startup Misspao has been placed in a residential community in Beijing. [Photo by Zhao Rong/For China Daily]
With a bunch of smartphone-based apps enabling people to rent a wide range of items, China is embracing a new age of business and convenience.
Buoyed by successful startups such as bike-sharing giant Ofo Inc and ride-hailing titan Didi Chuxing, the tide of the sharing economy is sweeping across China, helping transform the country into a global innovation leader, expanding business far more rapidly than its foreign counterparts.
The magical sharing mode is being used to rent an ever-growing list of items. Bicycles, homes, car rides, everyday clothing, basketballs, umbrellas ... by simply scanning the QR codes in stations via their smartphones or logging on the apps or mini sites of Tencent Holdings Ltd's WeChat platform, users can conveniently access almost anything they need in major cities.
Nationwide, sharing economy transactions were worth about 3.45 trillion yuan ($522.8 billion) in 2016, according to a report jointly released by the State Information Center and the Internet Society of China.
Seeing the big potential for new business, the Chinese government expects to grow the transactions of sharing economy by 40 percent year-on-year over the next few years. By 2020, it is expected to account for more than 10 percent of China's gross domestic product. China's GDP was 74.41 trillion yuan last year and is projected to grow 6-7 percent annually over the next few years.
In June, the central government approved a guideline to boost the booming sharing economy. The guideline encouraged entrepreneurs to start businesses related to the sharing economy, and the authorities will gradually remove the industrial and regional barriers to its sustainable development.
Shared self-service mini-gyms are the new trend on the increasing list of sharable services. For around 6 yuan per half hour, users are able to rent mini-gym booths in nearby residential neighborhoods for exercise and bodybuilding.
Since June this year, the shared booths, which resemble phone booths, have been rolled out in communities in Beijing, Shanghai, Hangzhou of Zhejiang province, Shenzhen of Guangdong province and Nanjing of Jiangsu province.
Covering around five square meters of space, the self-service shared booths are equipped with basic fitness equipment such as a treadmill, air conditioner, air purifier and a high-definition screen to listen to music or watch videos.
After paying the needed deposit, users can then book the nearest booth to head to and scan the access code with smartphones.
Bi Zhen, CEO of Beijing-based fitness startup Misspao, said the self-service pods actually cater to people's increasing need for sports and exercise.
"Our company's survey revealed that 95 percent of the investigated people need exercise, while only 10 percent of them have the gym membership. Due to the heavy workload, many of them lack time to take exercise frequently. And that's exactly what we can offer. Even busy people can enjoy the convenience brought by the private fitness booths in the residential communities," Bi said.
The company said the cost per fitness pod is around 10,000 yuan to 15,000 yuan, and the company can earn 60 yuan per machine per day. That means it can yield high rates of return, with break-even in six to eight months.
The company has raised a total number of around 100 million yuan investment, including the latest 75 million yuan series A round of financing.
According to Bi, the company has signed up more than 2,000 residential communities domestically and placed more than 200 self-service fitness booths. And it is expected to roll out 3,000 pods in 10 cities nationwide before the next Spring Festival in February.
The shared fitness booths service is part of the broader sharing-economy boom sweeping across China and integrating into existing industry.
Fueled by supportive government policies and blossoming internet technologies such as mobile payments, new sharing products will gradually pop up across the country to cater to people's growing need for high-quality lives.
Zhang Xu, a Beijing-based internet analyst, said as China's great demographic dividend begins to disappear, it is important to develop new economy to cut overcapacity and generate sustainable long-term growth.
"Sharing economy will innovate the way traditional industry works, as the new type of economy will gradually transform the former one," Zhang added.