Foxconn invests in blockchain payment startup Abra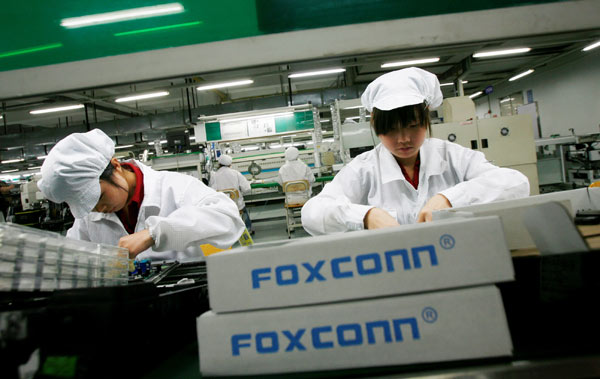 Employees work at a Foxconn factory in Longhua, Guangdong province. [Photo/Agencies]
Contract manufacturing giant Foxconn has invested in a Silicon Valley-based blockchain payment startup, Abra, according to a post on Abra's website on Monday.
Foxconn's venture subsidiary HCM International is one of the $16 million Series B round investors, along with Silver8 Capital and Ignia. Series A round investors include American Express Ventures and Jungle Ventures.
"We believe that Abra represents the future of digital payments and banking. Abra's vision for a decentralized network of people, merchants and consumer devices all connected via internet-based open blockchain technology can usher in a new era of financial inclusion and access to capital for billion of consumers," said Jack Lee, founding managing partner of HCM.
Abra announced in June 2016 that its smartphone app is now available on Android and iPhone in the US and users can download the app, fund their Abra wallets immediately with their bank accounts, and send money completely free to other users by entering their phone number, according to a report from businessinsider.com.
According to Abra's website, sending and receiving funds via the Abra app is now available in China, but adding or withdrawing funds via bank accounts were not available.
Executive Associate Dean of the PBC School of Finance at Tsinghua University Liao Li predicted in an exclusive interview with chinadaily.com.cn in September that blockchain will replace most existing procedures in financial transaction and payment.