AI startup DeePhi raises $40m in financing from Ant Financial, Samsung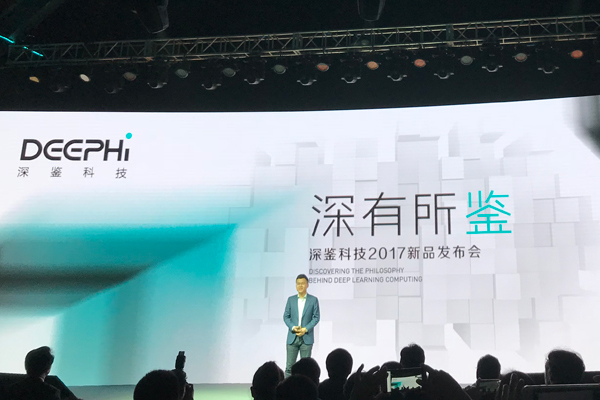 Yao Song, co-founder and CEO of DeePhi Tech, delivers a speech at the company's products launch event held in Beijing, Oct 24, 2017. [Photo provided to chinadaily.com.cn]
Domestic artificial intelligent startup DeePhi Tech announced on Tuesday at a products launch that it has completed a Series A+ of financing for about $40 million.
This round of financing was led by Alibaba's financial affiliate Ant Financial Services Group and Samsung, with China Merchants Venture and China Growth Capital participating as fellow investors.
Yao Song, co-founder and CEO of DeePhi Tech, said part of the fundraising will be used in the company's product development and marketing in the security and big data fields.
"The injection of Ant Financial's strategic resources will support DeePhi Tech to further explore more application scenarios including finance. And the company's cooperation with Samsung will focus on storage. "
To boost the commercialization of DeePhi Tech, Yao said the company will develop an intelligent solution that takes deep learning processor as its core and an effective system for its AI chipsets so as to extend the application field and launch products.
Founded last year, DeePhi Tech had already secured tens of millions of US dollars in a Series A round of financing from six investors earlier this year, which include US chip producer Xilinx, Taiwan-based semiconductor firm MediaTek, GSP Ventures, Banyan Capital, Tsinghua Holdings and Sigma Square Capital.
At the launch event, the company released a series of AI products, such as Aristotle on ZU9 FPGA Intelligent Analytic Servers, Aristotle CNN Accelerator, and AI solutions in face, speech and video analytics.
In addition, Yao said the company will launch the first deep learning development software development kit (SDK) in China.
Shan Yi, chief technology officer of DeePhi Tech, said the startup, founded by AI researchers from Tsinghua University and Stanford University, has confidence on leading the AI industry in developing cutting-edge technologies in the future and will accelerate its market layout with the completion of this round of financing.
Professor Xie Yuan from University of California at Santa Barbara, an AI expert who attended the event, said as young Chinese researchers' work on AI hardware architecture has reached world-class level, there is a huge opportunity for Chinese enterprises to overtake in the high-tech field.
In the first half of this year, China's AI startups secured record financing of 19.3 billion yuan ($2.87 billion), according to a report released by tech-investment data website itjuzi.com.
In July, China's central government outlined a national plan aiming to grow the AI industry to 150 billion yuan by 2020 and to become the world's major AI innovation center by 2030.