Investments help internet startup Nio kick off mass production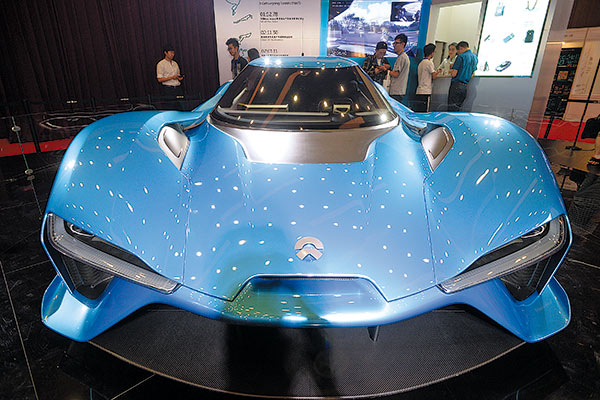 Visitors check out a NIO EP9 electric vehicles stand on display at an auto show in Beijing.FAN JIASHAN/CHINA DAILY
After another round of funding ahead of its new model launch, new energy vehicle-maker Nio is becoming the first internet startup to deliver mass products in the Chinese auto market.
The Shanghai-headquartered automaker is reported to have secured a new round of financing, coming in at more than $1 billion.
The injection of funds, led by Tencent, involved Baillie Gifford, Lone Pine Capital, CITIC Capital, China Asset Management Co, and dozens of investors.
Local media reported Nio is now valued at $5 billion after this round of financing. The figure stood at $3 billion in March after a $600 million round of fundraising. Investors have confidence in the company, so it has attracted continuous investment to fund its capital-consuming electric car manufacturing and research and development, veteran commentator Zhong Shi told China Daily.
Zhong said: "The capital-intensive environment requires a steady cash flow. Should the investment halt, the startup could face closure."
"They also need to maintain customers' interest in the coming products. Its luxury positioning could result in limited market demand," he added.
Nio said this is the last round of financing before the launch of its first mass products.
The Nio ES8 7-seater pure electric SUV is set to launch on the market on Dec 16 in Beijing. With a starting price lower than 450,000 yuan ($68,000), it features numerous individualized options available for customers to choose at additional cost.
The company limited preorders of the first batch of Nio ES8 to 10,000 vehicles. About 8,000 vehicles were preordered through its website, according to sources familiar with the matter.
In the future, all of the Nio vehicles will be offered through direct sales channels, according to Wan Rui, director of public relations at Nio.
"Each customer will receive credits that can be redeemed for commodities and services through our app.
"More credits would be obtained in daily use as a reward for saving energy, by braking less as an example," Wan said.
"Then the customer may redeem the credits for repairs etc, so the use of our vehicles will incur no cost."
The vehicles will be jointly manufactured by Nio and JAC in the latter's plant in Hefei, capital of eastern Anhui province.
The class-leading JAC plant now has an annual capacity of 100,000 vehicles. But, the production of the new model will go through a ramping-up process at the beginning, according to Nio.