Couriers welcome Singles Day shopping spree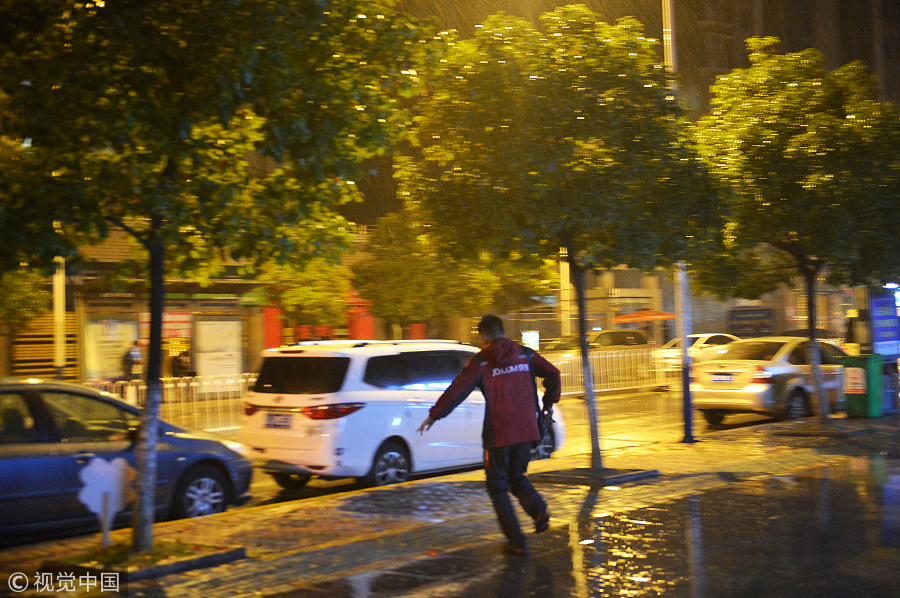 Mai Jiming leaves home in rain at 6:40 am in Guiyang, capital of Southwest China's Guizhou province, Nov 11, 2017. [Photo/VCG]
Couriers have welcomed the delivery rush generated by Singles Day shopping gala in China.
Over 95 billion yuan ($14.30 billion) worth of orders were made by 2:00 am on Nov 11 from JD.com, which equaled the annual sales of the largest offline supermarket chain in China. The number increased to 120 billion yuan in the following 12 hours.
The huge amount of transaction indicates couriers in China will be extremely busy due to surge of parcels needed to be delivered in the following week.
Mai Jiming, 29, who works at JD Logistics' Jinyang station in Guiyang, capital of Southwest China's Guizhou province, is one of the couriers who has to get up one hour earlier than before since Nov 11 and does not even get time for meals during work hours.
Thanks to efforts of couriers like Mai, parcels are being delivered at breakneck speed, even though the number of parcels in Jinyang station reached 2,800 on Nov 11 this year, which was twice as the number in normal days.
Mai was happy to see the surprise of a customer who ordered a product at 3:00 pm and received it at 9:00 pm on Nov 11.
Last November, Mai delivered 4,000 parcels and earned over 10,000 yuan with 8,000 yuan commission.
Singles Day shopping festival increases income of couriers and an extra 2,000 yuan is expected to be made during this period of time, said Mai.
Let's take a look at a day for Mai Jiming, a typical courier on Singles Day shopping gala in China.