SAS enjoys China's growing market, innovation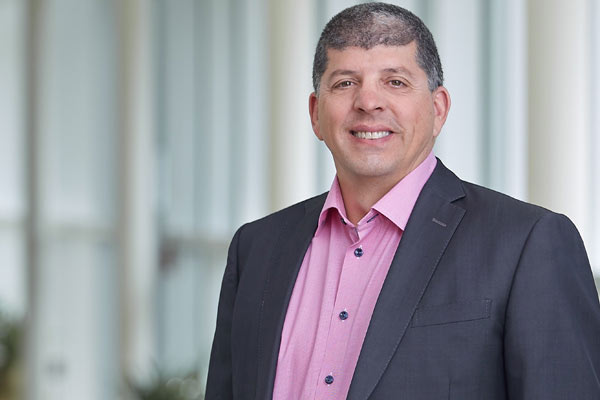 Nick Lisi, executive vice-president and chief sales officer of the world's leading analytics software company SAS. [Photo provided to chinadaily.com.cn]
Global leading analytics software company SAS said on Friday that it has seen double-digit annual growth in China for the past five years and will continue to expand investment and further pursue opportunities in the country.
Having been in China for more than 20 years, the US-headquartered company finds itself fitting well into the country's national strategies, such as Made in China 2025 and supply-side structural reform, and is seeing more opportunities from them, according to Nick Lisi, executive vice-president and chief sales officer of SAS.
Lisi, who was part of US President Donald Trump's business delegation to China last week, said in an exclusive interview with chinadaily.com.cn in Beijing that the visit was positive and he expects China and US would expand cooperation in the tech sector.
Strong momentum of cooperation
On Thursday, Chinese and US companies signed 15 commercial documents worth $253.5 billion at the Great Hall of the People.
"When they said it was the biggest deal ever signed, I thought it underlines how important the relationship between China and the United States is," Lisi, who witnessed the signing ceremony, said.
He mentioned SAS also signed a deal but it was modest.
"It is more of a strategic indication for us and it really enables us to continue the good work. I am more excited about the opportunities that we are going to see from this."
Lisi believes it is important that the world's two largest economies, which control more than one third of the world's GDP together, can get along and figure out how to create a win-win situation.
"We have been here for a long time in China as a US-based company and clearly it sets a very good momentum for us to continue to invest in and pursue our business here in China," Lisi added.
While most of the 29 US companies accompanying Trump during his state visit to China last week were from the energy, environmental protection and commodity sectors, SAS was one of the few tech companies.
At the signing ceremony, saying that the Chinese and US economies are highly complementary, President Xi called on the US to increase exports of civil technologies to China.
In addition, many experts said the two sides should further collaborate in high-tech industries.
Cliff Wu, president of SAS Greater China region, told chinadaily.com.cn SAS, as the key global US software company in the business delegation, was selected because of the strategic value it will bring to the Chinese market.
In Lisi's opinion, both China and US are very eager to engage in cooperation in tech sector and both of them have a lot of value to bring.
"I think it absolutely is a good opportunity for us. And I feel the environment is very good for that,"" Lisi said.
Thriving market and innovation
Founded in 1976, SAS now has businesses in 148 countries.
Among them, the Chinese market is different and important for the company because the country has a strong domestic economy and is focused on the fields in which SAS has been putting a lot of investments, such as artificial intelligence, internet of things, and big data, Lisi said.
In addition, he said what differentiates Chinese customers with others are the scale of the data they have and the volumes and the size of the problems they face.
"When you look at the Chinese environment, you have significantly more data than some of our other customers globally," Lisi said.
The scalability is important, as an example, SAS is providing the latest transitional fraud management system to the big banks, while globally the maximum of capacity only requires 3,000 transactions per seconds (tps), it is 10,000 tps in China, Wu added.
SAS has already got a dominant presence in the financial sector that more than a hundred leading financial institutes, such as the top four banks, have been using its software and services to expand business, carry out risk management, deal with fraud or manage customers, Lisi said.
Not only that, he is positive that more companies in different sectors, especially the fintech and intelligent manufacturing companies as well as municipal governments, will make its client list in the future.
"Take the manufacturing industry for instance. In the past a lot of large manufacturers were busy with their enterprise resource planning, supply channels and infrastructure projects. As they started to accumulate more and more data, they also want to leverage the big data analytics," Wu said.
So in that area, Wu said, SAS is helping large manufacturers to build sales forecasting, organize inventory, and even leverage the social media they have to hear the voice of customer and improve product qualities.
In addition, the company has made progress in establishing strategic partnership with municipal governments.
It signed an investment cooperation agreement with Invest Shenzhen, an organization assigned by the Shenzhen municipal government, this April to use big data analytics to boost the smart city construction and improve urban management level there.
China is moving from a quantity-based economy to a quality-based economy, Lisi said. "I think we are really just beginning to see the role you are going to play from an innovation perspective."