NBA's Shoemaker ending China stint
Canadian departing after seven successful years at the helm
David Shoemaker will step down as CEO of NBA China after the 2017-18 season, the National Basketball Association announced on Tuesday.
The Canadian, who began the job in June 2011, will depart with the North American league's business booming in its biggest overseas market.
He will continue to lead NBA China through the current season and will play an active role in the recruitment of his successor.
"Under David's leadership, our game and business in China have seen unprecedented popularity and growth," said NBA commissioner Adam Silver.
"We are grateful for David's contribution during his tenure as CEO and are fortunate that he'll be with us through the season to assist with the transition."
Speaking to China Daily in his Beijing office, Shoemaker described his decision to step aside as "bittersweet and very emotional".
"It's been an incredibly rewarding seven years for me here. We've accomplished amazing things," said the 46-year-old from Ottawa.
"But it's a perfect time to part as the business has never been stronger and the NBA has never been more popular in China."
Under Shoemaker's leadership, the NBA has developed into arguably the most successful professional sports league in China, boasting a ginormous fan base and unrivaled media exposure.
One of the major achievements of his tenure was the NBA's partnership with Chinese internet service provider Tencent to live-stream a record number of games and deliver content to PC and mobile platforms.
A total of 453 million viewers watched the NBA on Tencent last year, while another 750 million tuned in on TV.
The NBA's social-media stats also speak volumes - the league has 140 million followers, the most of all sports leagues. Commercially it is also leading the way, with a record number of marketing partners - 24.
"The success has exceeded my expectations from 2011. I wouldn't have imagined it could become so successful," said Shoemaker, who was president of the Women's Tennis Association before joining the NBA.
"From expanding the broadcast of our games to establishing elite NBA academies as well as landmark partnerships in both the private and public sectors - there is so much energy and momentum around the league's business and the game of basketball in China. It's been incredible to be part of it."
Another notable feat under Shoemaker's watch was a partnership with the Ministry of Education, signed in October 2014 and expanded in June 2015, to add basketball to school curricula across the country. This term, over two million students from 2,000 schools have learned their hoops skills under the NBA's tutelage.
The league has furthered its educational reach at three NBA-standard basketball academies in Zhejiang and Shandong provinces and Xinjiang Uygur autonomous region, while the NBA's first high-performance training center in China opened in 2011 in Dongguan, Guangdong province.
"I have high confidence that the NBA will become even more popular, and because more and more Chinese are starting to play the game, it's just a matter of time before we see a steady stream of Chinese playing in the NBA. That day is not too far away."
Shoemaker believes technology will play a big part on his successor's to-do list.
"New technologies such AR and VR (augmented and virtual reality) have opened up new opportunities to keep developing the NBA China brand and business to new horizons," he said.
Shoemaker's total 10-year stint (including his WTA period) in China has not only been a resounding professional success. He met his wife, Jennifer Hsiung, a Canadian TV news anchor who works for China Central Television, here and the couple now have three children.
"We've really enjoyed our lives here. I am very pleased that our children grew up here, learning the language and culture, but it's time to go home," he said.
sunxiaochen@chinadaily.com.cn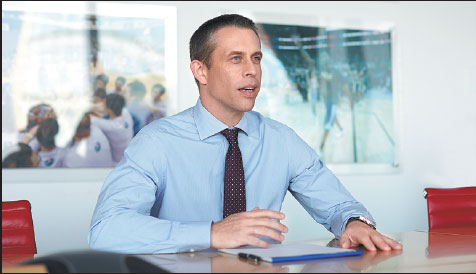 David Shoemaker is stepping down as NBA China's CEO after seven highly successful years in the Beijing-based role.Provided To China Daily
Most Popular
Highlights
What's Hot