China's property market to cool in 2018: think tank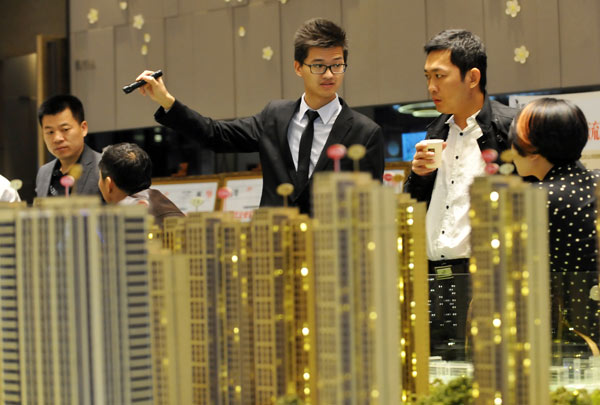 A salesman introduces a property project in Wuhan, Hubei province. [Photo by Miao Jian/For China Daily]
BEIJING - China's property market is expected to cool in 2018 as growth in real estate investment, property sales value and home prices might slow, according to an annual research report released Tuesday.
"In general, this short period of pick-up in the property market is drawing to a close. A new period of correction and cooling will emerge next year," said the report from the National Academy of Economic Strategy at the Chinese Academy of Social Sciences (CASS).
The country's property market should remain stable next year if there is no major policy shock, according to the annual report on development of the Chinese housing market.
The sales value of commercial residential buildings will decline significantly from this year into 2018, and housing inventory will drop further, albeit at a slower pace, the report said.
Meanwhile, the trend of home price growth slowing is expected to continue in a steady way, while growth in property investment might be slightly lower than this year.
The performance of the housing market in different cities may differ, with lagged interplay effect between cities, according to the CASS report.
Since late last year, dozens of local governments have passed or expanded restrictions on house purchases and increased the minimum down payment required for a mortgage.
The property market was also cooled by relatively tightened liquidity conditions as the government moved to contain leverage and risk in the financial system.
Latest data from the People's Bank of China showed that loans to the real estate sector continued to grow at a slower pace, with outstanding loans up 22.8 percent year-on-year to 31.1 trillion yuan ($4.7 trillion) by the end of September, 1.4 percentage points lower than the rate seen at the end of June.
The report also predicted a boom in the property rental and leasing market for the next year on policy stimulus, especially in first- and second-tier cities.
"It is a promising market waiting to be developed, with a market potential value totalling trillions of yuan," said the report.
Despite a stable outlook, uncertainties still remain in the country's property sector, including the burst of the housing bubble, a bigger bubble and a revival of speculation, according to the CASS.