'Cooperation is complementary'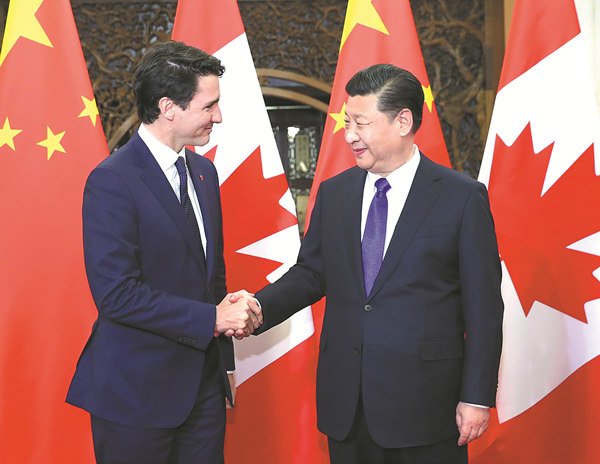 President Xi Jinping meets with Canadian Prime Minister Justin Trudeau at the Diaoyutai State Guesthouse on Tuesday in Beijing. Xi said he will support investment in Canada and invited the North American nation to participate in the Belt and Road Initiative. XIE HUANCHI / XINHUA
Xi tells Trudeau that gains outweigh political differences
China and Canada should enhance practical cooperation in areas such as energy, resources, technological innovation and aviation, President Xi Jinping said on Tuesday.
China will continue to support domestic companies investing in Canada, and it also welcomes Canadian companies to collaborate on the Belt and Road Initiative, Xi said in a meeting with Canadian Prime Minister Justin Trudeau at Diaoyutai State Guesthouse in Beijing.
"In general, we both have our own advantages, and our cooperation is complementary," Xi told Trudeau.
The president called for more cooperation in finance, modern agriculture and the clean technology sectors. The two countries should enhance people-to-people exchanges in areas including education, culture, tourism and sports, he said.
Trudeau's official visit to China began on Sunday and concludes Thursday, during which he attended the second meeting of the Annual Dialogue Between the Chinese Premier and the Canadian Prime Minister.
"Such close contact between Chinese and Canadian leaders is of great importance to the development of China-Canada relations," Xi said, adding that Trudeau's schedule is "busy and productive".
Xi highlighted the importance of boosting mutual political trust, saying that it is the premise for the stable development of diplomatic relations. A country's development path can only be decided by the people of the country, he said.
Although China and Canada have different political systems, Xi said, the two sides can respect each other, seek common ground while setting aside disagreements, enhance cooperation and enlarge exchanges, thus creating more benefits to the people of both sides.
The two countries should make joint efforts to prepare for the 2018 China-Canada Tourism Year, Xi said. As it prepares to hostthe 2022 Winter Olympics, China would like to learn from Canada's experiences, he added.
Xi also proposed more cooperation in such important areas as climate change and more coordination under a multilateral framework.
Trudeau said Canada is dedicated to developing relations with China on the basis of mutual respect and trust. The two countries should increase their cooperation in economy, trade and people-to-people exchanges and enhance communication on major global and regional issues, he said.
China-Canada cooperation has grown with a strong momentum in recent years, Trudeau said. This has not only brought real benefits to both sides, but also sent positive signals to the international community, he said.
On Monday, Trudeau and Premier Li Keqiang had their second annual dialogue. They agreed to discuss the feasibility of a China-Canada free trade agreement.
The two countries issued a joint statement on climate change and clean growth and signed three cooperative documents on education, food safety and energy.
anbaijie@chinadaily.com.cn

Editor's picks