TOKYO - Leader of Japan's Liberal Democratic Party (LDP) Shinzo Abe said Sunday that his party will improve Japan's relations with China as soon as possible.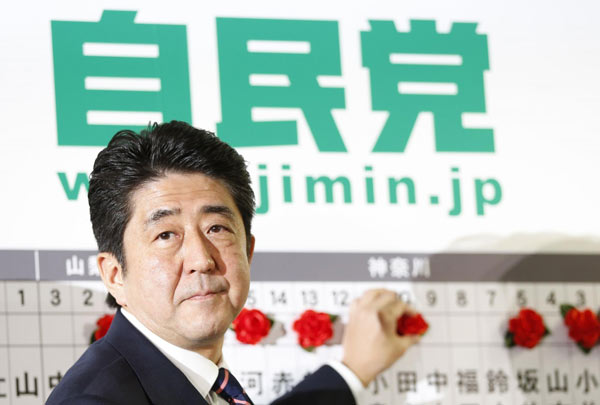 Japan's main opposition Liberal Democratic Party's (LDP) leader and former Prime Minister Shinzo Abe smiles as he puts a rosette on names of candidates, who are expected to win, at the LDP headquarters in Tokyo December 16, 2012. [Photo/Agencies]
Abe made the remark during a press conference as his party won majority in the Sunday's lower house election.
As of now, LDP has secured 250 seats in the general election and the vote counting is ongoing.
Abe said that LDP's victory was due to failure of the Democratic Party of Japan (DPJ) over the past three years.
"People thought they should put an end to the government of the DPJ. Therefore, people have to say no to the DPJ government,"Abe said.
He said Japanese people are watching closely that if the LDP can really respond to their expectations. "So we should try to live up to the expectations," Abe added.
Abe also said his party's priority is to combat the country's long-lasting deflation. "It is our campaign pledge," said Abe.
As to taxation and social security reforms, Abe said he will cooperate with the DPJ on the issues.
The leader also emphasized to enhance Japan's relations with the United States.