TOKYO - Japan voted on Sunday in an election expected to return the conservative Liberal Democratic Party (LDP) to power after a three-year hiatus, giving ex-Prime Minister Shinzo Abe a chance to push his hawkish security agenda and radical economic recipe.
Polls opened at 0700 am (2200 GMT) and will close at 8 pm (1100 GMT), when major TV broadcasters will issue exit polls forecasting results.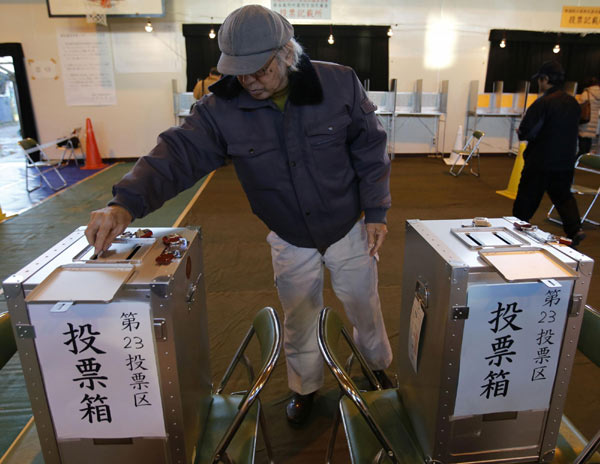 A voter casts his ballot at a polling station in Kawasaki, near Tokyo, Dec 16, 2012.  [Photo/Agencies]
An LDP win would usher in a government committed to a tough stance in a territorial row with China, a pro-nuclear power energy policy despite last year's Fukushima disaster and a potentially risky prescription for hyper-easy monetary policy and big fiscal spending to beat deflation and tame a strong yen.
Media surveys have forecast the LDP will win a big majority in parliament's powerful 480-seat lower house, just three years after a devastating defeat that ended more than 50 years of almost non-stop rule by the business-friendly party. However, many voters remained undecided just days before the vote, the polls showed.
Together with a small ally, Abe's LDP could even gain the two-thirds majority needed to break through a policy deadlock that has plagued successive governments for half a decade.
Abe, 58, who quit abruptly as premier in 2007 after a troubled year in office, has been talking tough in a row with China over uninhabited isles in the East China Sea, although some experts say he may temper his hard line with pragmatism once in office.
The soft-spoken grandson of a prime minister, who would become Japan's seventh premier in six years, Abe also wants to loosen the limits of a 1947 pacifist constitution on the military, so Japan can play a bigger global security role.
The LDP, which promoted atomic energy during its decades-long reign, is expected to be friendly to nuclear utilities, although deep public safety concerns remain a barrier to business as usual for the industry.