TOKYO - About 13 people were injured and one still missing after a magnitude 7.3 earthquake jolted off eastern coast of Japan Friday.
Two seniors were found injured in Aomori and Miyagi Prefectures respectively Saturday morning, local police said. The rest 11 injured were reported Friday after the quake, which also triggered tsunami up to one meter high along parts of Japan's Pacific coast.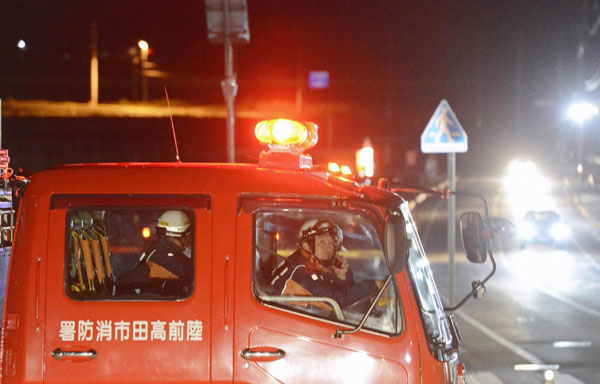 Firefighters persuade residents to evacuate after a strong earthquake hit the area in Rikuzentakata, Iwate prefecture, in this photo taken by Kyodo Dec 7, 2012.[Photo/Agencies]
Iwate authorities said they are still searching for a senior, who went missing after evacuating in a boat from Kuji port in the prefecture in response to tsunami alerts.
Japan's nuclear regulator said no abnormalities were detected at nuclear plants in the affected region, including Fukushima Daiichi and Fukushima Daini plants.
Over 20,000 people evacuated and railway services and an airport were suspended temporarily after the temblor.
The Japan Meteorological Agency said the quake was probably an aftershock of the catastrophic temblor hit the region in March 2011.
The agency also warned that there would be an aftershock up to magnitude 6 within a week.
Related stories:
7.3-magnitude quake hits off Japan