Max Clifford, Britain's highest-profile celebrity publicist, was arrested for alleged sex crimes on Thursday by a special police unit set up in the wake of an abuse scandal involving a former BBC TV star, his lawyer said.
Clifford, 69, made his name and fortune helping some of Britain's most famous people defend and shape their reputations in the country's muckraking tabloid press and has been a longstanding media pundit on celebrity scandals.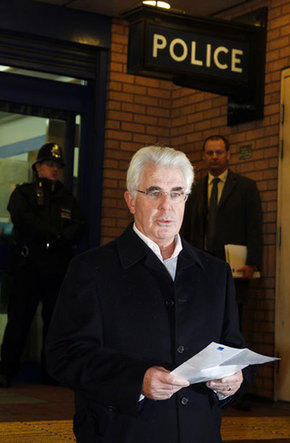 Publicist Max Clifford reads a statement to reporters after leaving Belgravia police station in central London on Thursday. [Photo/Agencies]
He is the fifth person to be arrested since police launched an extensive inquiry into sex-crime allegations against the late Jimmy Savile, a high-profile BBC star in the 1970s and 80s.
Clifford denied the allegations, saying that "on a personal level" they were "very distressing".
"Anyone who really knew me all those years ago, and those who have known me since will, I'm sure, have absolutely no doubt that I would never act in the way that I have today been accused," he said.
His arrest suggests detectives are continuing to expand the scope of their investigation.
"Max Clifford is being interviewed by police. Mr Clifford will assist the police as best he can with their enquiries. When we are in a position to provide further information, we will," his lawyer, Charlotte Harris, said in a statement.
Earlier, London's Metropolitan Police said they were questioning a 69-year-old man on suspicion of sexual offenses.
That arrest was part of an investigation into Savile, who detectives said was one of Britain's most prolific child sex offenders. Police are looking into more than 200 allegations of assault and have heard from more than 500 victims.
Police are investigating three categories of alleged offenses: those involving only Savile, which make up the majority of cases; those involving Savile and others; and those that had no direct link to Savile.
Clifford's arrest is part of the third strand.
Some of Savile's alleged victims said they were abused on BBC premises at the height of his fame, and the fallout from the revelations has thrown the publicly funded broadcaster into turmoil, forcing its director general to resign.
The other people arrested include the former glam-rock singer Gary Glitter and comedian Freddie Starr, who both deny any wrongdoing. Police have questioned a fifth man who is in his 80s.
Clifford is best known in Britain for selling "kiss and tell" stories relating to the rich and famous to scandal-hungry tabloids, though he said he actually earned more money by keeping details about celebrities out of the papers.
The publicist's clients have included X Factor reality TV show creator Simon Cowell.
On Wednesday, police charged veteran BBC TV and radio presenter Stuart Hall with three counts of indecent assault involving girls as young as nine, relating to alleged offenses from the 1970s and 80s.
Detectives said Hall's alleged crimes were not linked to the Savile inquiry.
In addition to claims relating to his activities at the BBC, Savile, the cigar-chomping one-time DJ is also accused of targeting children at three hospitals where he carried out extensive charity work, raising tens of millions of dollars in the process.
Hospital inquiries
The government on Thursday published the terms of reference for investigations to be carried out at Leeds General Hospital, Broadmoor Hospital and Stoke Mandeville Hospital, the birthplace of the Paralympic Games, which has an internationally renowned unit for spinal injuries.
These are due to report towards the second half of 2013 and will be overseen by former lawyer Kate Lampard, the Department of Health announced.
"It is important that victims of this abuse can be certain these investigations discover exactly what happened and what went wrong," she said.