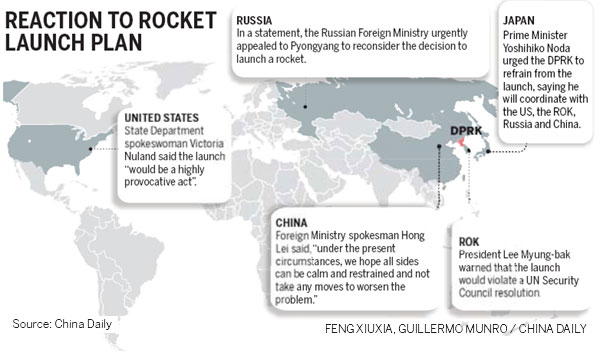 Russia urged the Democratic People's Republic of Korea on Monday to rethink its plan to launch a rocket later this month, as the Republic of Korea said Pyongyang has installed the first stage of the rocket.
"We urgently appeal to the government (of the DPRK) to reconsider the decision to launch a rocket," the Russian Foreign Ministry said in a statement.
Pyongyang had been warned not to ignore a United Nations Security Council resolution, which "unambiguously prohibits (it) from launching rockets using ballistic technology", said the statement.
The DPRK announced on Saturday the decision to launch another satellite and reportedly told neighbors it would take a similar path to the failed rocket launch in April.
Pyongyang insisted it will fully comply with relevant international regulations, but Washington said the planned launch, similar to the attempt earlier their year, is a disguised test for long-range missile technology designed to strike the US.
The DPRK said it gave the US direct notification of its plan to fire a long-range rocket last week, Yonhap News Agency reported.
The DPRK has installed the first stage of the rocket onto the launch pad, which means it is starting process of launching a long-range missile, an ROK government source said on condition of anonymity.
The launch has triggered serious concerns from its neighbors. China urged "all sides" not to take any action that "worsens the problem".
"Under the present circumstances, we hope all sides can be calm and restrained and not take any moves to worsen the problem. China will remain in touch and coordinate with all sides," said Foreign Ministry spokesman Hong Lei on Monday.
Meanwhile, the ROK and Japan prepared to take countermeasures against the launch.
Full Coverage:

DPRK Rocket Launch
Related Readings:

China pledges communication on DPRK's satellite launch

Russia urges DPRK not to launch rocket

DPRK satellite launch plans trigger concern among regional neighbors

China concerned about DPRK's satellite launch

Japan to postpone talks with DPRK

DPRK to launch satellite in December
Slide:

DPRK satellite launch site