The strength of US President Barack Obama's handling of Hurricane Sandy and the devastation it caused to the East Coast last week helped him across the finish line, some commentators believe. And it raised a topic that was conspicuous by its absence during the campaign — climate change.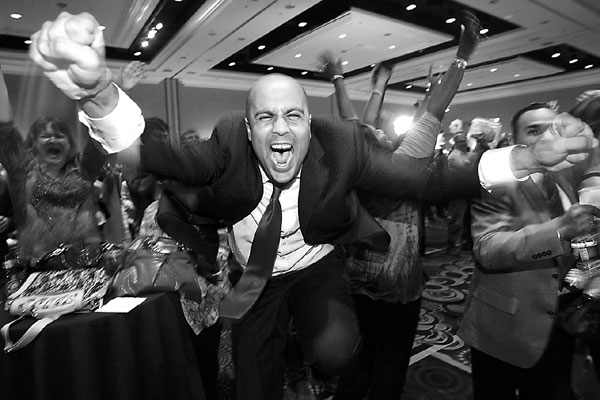 Ajay Narayan cheers after a television network calls the race for US President Barack Obama during the Nevada State Democrats' election night party at the Mandalay Bay Resort in Las Vegas on Tuesday. Sam Morris / Las Vegas Sun via Reuters
"In the final days of the campaign, Hurricane Sandy served as a wake-up call for political leaders to take the necessary actions that will reduce emissions and prepare the country for climate impacts," said Jennifer Morgan, climate and energy director at the World Resources Institute, an environmental think tank.
Damon Moglen, who heads the climate and energy program at the Washington-based Friends of the Earth, said the superstorm boosted Obama's standing and could have helped him to win. But in the longer term, he said, Sandy could serve as a reminder of the dire effects of climate change, making it hard for the president to "sidestep" the issue in his second term.
"It will become a hugely important footnote in history," Moglen said of the hurricane. "It is going to be impossible for Obama in his second term not to treat climate change as a true priority.
"There is also going to be a lot of pressure from very early on for the president to pass new laws that are going to (convert) old coal-fired power plants to new coal-fired power plants' pollution."
Environmentalists have long been criticizing the failure of both Obama and Mitt Romney to address the problem of climate change during the campaign. There was no mention of the issue during the candidates' three televised debates.
"The president deserves very severe criticism for his unwillingness to talk in a more serious way about climate change," said Moglen. Hurricane Sandy, he added, "turned the corner on the ridiculous debate in this country" about whether climate change is real.
"Obama stands on the brink of history — either he is going to change the trajectory of American policy on climate change or he is going to go down in history as the president who failed to listen to the winds of Sandy," Moglen said.
But Obama acted swiftly after Sandy, canceling late-stage campaign stops in swing-state Ohio and heading to New Jersey to view the relief work in the storm's wake.
His swift reaction scored the president an 11th-hour endorsement from New York Mayor Michael Bloomberg, who had criticized Obama and Romney for being tone-deaf on climate change.
"Within the first few weeks and months of (Obama's) administration, there will be some key policy decisions that the president is going to be under pressure to make, which will indicate whether or not he is going to respond to this climate-change reality," Moglen said.
A Washington Post/ABC News poll showed that nearly eight of 10 respondents thought Obama had done an "excellent" or "good" job dealing with Sandy's impact.
More importantly, the president's actions suggest climate change could become a priority in his second term.