In today's trending, bride and groom take unusual route to wedding, couple use Photoshop to stay closer, parents queue for five days in front of kindergarten, and a bridge that will challenge the bravest.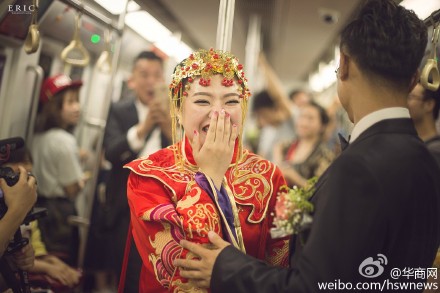 The bride laughs behind with the groom on the subway. [Photo/Sina Weibo]
Wedding party takes subway
A bride and groom headed to their wedding improvised their path to marriage ceremony after their vehicles got stuck in traffic jam, reported hsw.cn on Wednesday.
"The groom was on his way to fetch the bride, but due to traffic jam, we were all concerned about getting to the wedding hall on time," the event's photographer said.
The newly-weds-to-be and their three pairs of best men and bridesmaids decided to take public transportation and appeared in the subway, resulting in applause and blessings from their fellow passengers.
Their subway photos soon became online hits.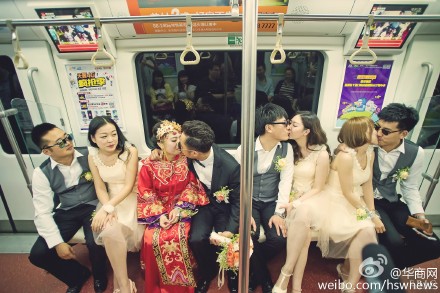 The wedding party on the subway. [Photo/Sina Weibo]