'Buddha' dog tries to help breathless fish; super student completes astonishing test and facekini sweeps the fashion world in series of magazine shoots.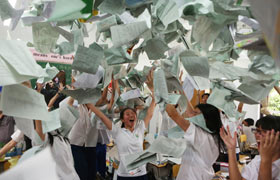 Student takes 176 tests in 16 days

Song An, a senior student at the Fifth Senior High School in Liaoyuan city, Jilin province, completed 176 entire sets of test papers in 16 days during the summer holiday, Xinhua reported.

The school praised her highly and recorded her deeds on an LED display calling her "the most amazing student". Although many netizens opposed the heavy workload, the school explained Song undertook the task out of sheer interest.
Related: Teacher attack in book splitting revelry

Personal statement has Classical twist
A high school graduate who impressed examiners by writing a long personal statement in ancient Chinese prose has been accepted by his dream university. Cheng Peng from Anhui province, who has long learned Classical Chinese, was top in Wuhan University's autonomous enrollment test and later handed in the personal statement to add to his success.
Related:Comics revive childhood memories of classical novel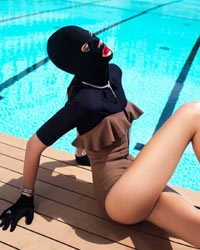 Facekini makes its mark on fashion
CR Fashion Book, founded by French editor Carine Roitfeld, has published a series of fashion shoots entitled Masking in the Sun, and the face-covering outfits are widely believed to have drawn inspiration from the "facekini" initially worn by middle-aged Chinese women swimmers to protect against sunlight, Southern Metropolis Daily reported.
Facekini refers to nylon masks which cover the head, revealing only the eyes, nose, and mouth, and the word was supposedly coined in 2012 after photos of Qingdao women wearing them to counteract blazing sun went viral on the Internet, and were selected as the most astonishing photos by TIME.
Netizens have said that following the gold purchase rush, which affected global gold prices, and square dancing, facekini is the third biggest contribution that Chinese Dama, or middle-aged women, have made to the world.
Related: The Facekini, a new craze sweeping China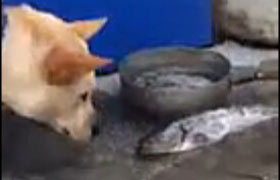 Man's best friend helps fish too
A Facebook user uploaded a video showing a dog nudging water toward fish lying on the ground, attempting to save them, and it has moved a huge number of netizens, taiwan.cn reported on its official Tencent Weibo account.
In the 45-second video, several fish are seen on land dying, while the dog uses its nose to push water from a puddle onto them. Though its nose got hurt due to rubbing, it kept doing this tirelessly.
Netizens were deeply moved by the dog's actions, and some even claimed it was an incarnation of the Buddha.
Related: Activists protest dog-eating tradition

Subway cleaner returns $1.37 m check
A subway cleaner in Changsha city returned a bag, containing a check worth 8.4 million yuan ($1.37 million), to its owner, voc.com reported. Li Guilian, a cleaner at Changsha Metro in Central China's Hunan province, said she was trained not to look inside bags that she found so immediately handed the plastic bag to the station head.
Related: iPad thief caught by remote control