Work is underway to build suspension bridges for macaques. Banks turn away illiterate mother. Women take advantage of their preganancies to steal more than $16,000 in goods.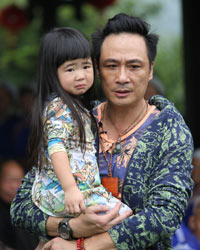 Reality show becomes huge hit
Posts centering on Where are We Going, Dad, a reality show starring celebrities and their children, have received more than 10 billion views on Sina Weibo, Chinese version of Twitter, according to people.cn.
The TV show has been topping the audience-rating chart for the past few weeks. In it celebrities and their children go to places far away from the city to experience different lifestyles.
The official Weibo account of Where are We Going, Dad now has more than 5 million followers, with the number of followers of celebrities participating in the show seeing a huge jump as well. "Celebrity dads and their lovely children have taken over this summer," said a Weibo user.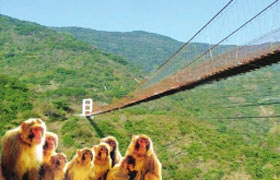 Building bridges to bring macaques together
To help about 500 macaques visit each other, two suspension bridges are being built over Qinhe River in Central China's Henan province, after construction of Hekou reservoir separated the creatures on mountains on both sides of the river, Da He Daily reported on Monday.
Completion of the bridges, which will cost around 5 million yuan ($812,281), can minimize the affect of Hekou reservoir construction on the macaques' living environment. The plan is unprecedented in China's history of wildlife protection, an expert said.

Pregnant women steal 300 clothes
A group of six pregnant women from Leiyang city, Hunan province, were caught stealing more than 300 designer clothing worth more than 100,000 yuan ($16,251) on the afternoon of Aug 2 at Hangzhou shopping malls, Hebei satellite TV reported.
Members of the group, participated in the theft ring in many cities around the country, said they thought they will not spend more than one day in prison as they are pregnant.
A lawyer said the law treats pregnant and non-pregnant criminals equally, although women carrying babies could be sentenced after the breastfeeding period is over. The case is under investigation.

Rich men steal watermelons for thrill
Five men have been caught red-handed stealing watermelons from a countryside farm in Chongqing on Aug 4. During questioning, they claimed that they were only stealing melons for thrill, Chongqing Evening News reported.
The men were driving a Honda worth 300,000 yuan ($48,737) while stealing the watermelons. Chang, 21, the car's owner, said he was unemployed and felt bored at home, so he decided to steal melons for thrill together with other four buddies.
They have been ordered to pay 1,200 yuan ($195) compensation to the farmers. Chang has been given seven-day detention and others five days.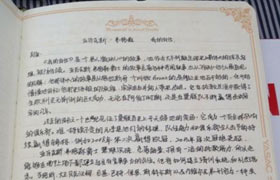 Bride copies book by hand as wedding gift
A woman copied the Chinese version of a book by Sir Alex Ferguson, the former manager of the Manchester United soccer team, by hand as a wedding gift for her new husband. The Chinese edition of Alex Ferguson: My Autobiography has 200,000 characters. The woman was described as a "dream girl of soccer fans" after her new husband, a keen supporter, explained what she had done on the Internet, yangtse.com reported.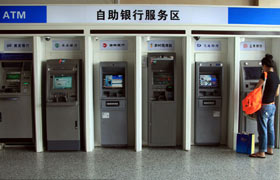 Angry bank customer pours urine on ATMs
An illiterate woman who was turned away by banks when she tried to remit money because she could not sign her name gained revenge by pouring urine on ATM machines. The 43-year-old woman, surnamed Wen, wanted to send 1,000 yuan ($160) to her child, Modern Express reported. She attacked a number of ATMs in Ningbo because she felt she was a victim of discrimination.

Woman cheated out of 14.6 million yuan
A woman was cheated out of 14.6 million yuan ($2.37 million) by a man who claimed he could free her husband from an investigation, Beijing Times reported on Sunday. The woman's husband was detained for investigation by the anti-graft watchdog of Anhui province in 2011. In March 2012, she approached Ren Pengyu in Beijing, who said he could have her husband freed for 9 million yuan. When her husband was not freed, the woman reported Ren to the police, and he was recently sentenced to life imprisonment for fraud.