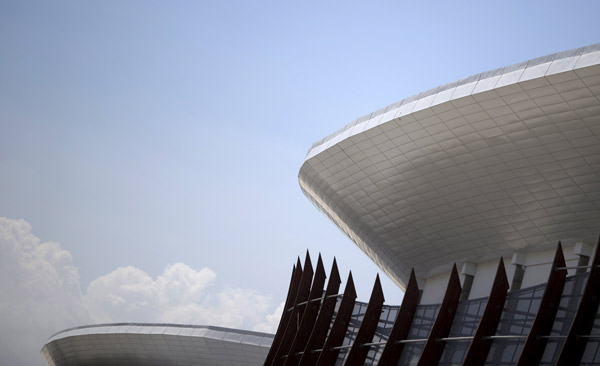 A view of the facade of the Carioca Arena 1 during a foreign media tour at the 2016 Rio Olympics park in Rio de Janeiro, Brazil, April 4, 2016. [Photo/Agencies]
RIO DE JANEIRO - The Olympic Park facilities in Rio de Janeiro are practically ready four months before the inauguration of South America's first Olympic Games, announced the director of projects for the Municipal Olympic Company, Roberto Ainbinder, on Monday.
In a news conference with foreign correspondents within the Park, Ainbinder confirmed that 98 percent of the construction work has been finished. He also added that now the main concern of the municipal authorities has shifted towards how the city will operate during the sporting event.
"To keep the city ticking over with four regions being used in the Games everyday will be a challenge," admitted Ainbinder.
Located in the Barra da Tujica region, the Olympic Park covers an area of 1.18 million square meters and includes the Cariocas Arenas (1,2 and 3), the Future Arena which will house the basketball tournament and paralympic sports, the Aquatic Stadium, the Velodrome, the Tennis Center, the Main Press Center and the International Broadcast Center.
According to the director of the Olympic project, Rio de Janeiro is confident that there will be no problems as they are used to organizing large-scale events such as Carnaval, the Pan American Games in 2007.