OSAKA, Japan -- China tied with Australia 1-1 in Women's Olympic Football Tournament Asian qualifier here on Wednesday, and will go to Rio Olympics as No.2 of the group.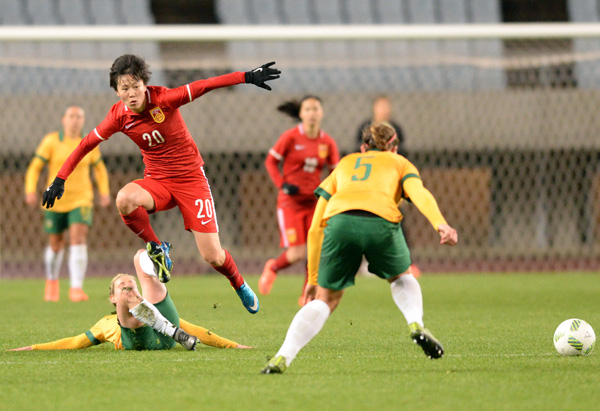 China's Zhuang Rui (top) makes a pass during a round robin game against Australia during the Rio Olympics football qualifying tournament in Osaka, Japan, March 9, 2016. [Photo/Xinhua] 
With three victories and one draw, China has booked the ticket to Rio in advance no matter the result of the game with Australia. But the Chinese girls played hard in hope of another victory. In the 16th minute, Ma Xiaoxu caught a fancy pass from Liu Shanshan and nodded the ball home.
China's leading position was not overturned until the 85th minute, when Australian player Emily Van-Egmond's goal brought the score to 1-1.
"This is the best game that we had in these days. We had hoped to go to Rio as No.1 of the group, but Australia played well today. We performed well. If we continue to perform well like that, everything would be good." said China's head coach Bruno Bini.
"This is a tough game ... We could have done better, but I still think we tried very hard." said Australia's head coach Alen Stajcic.
Six Asian teams competed for two spots in Rio Olympics. With 13 points and 11 points respectively, Australia and China would advance to Rio together.