SHANGHAI - China dominated the 1,000m events at the 2016 ISU Shanghai Trophy here on Sunday as Han Tianyu and Qu Chunyu took the men's and women's gold medals respectively.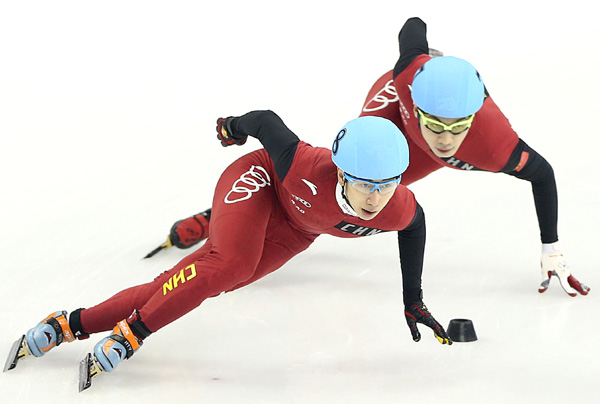 China's Han Tianyu (front) competes during the men's 1,000 short track speed skating event at the 2016 ISU Shanghai Trophy in Shanghai March 6, 2016.  [Photo/Xinhua]
Han clocked one minute and 29.251 seconds for his second gold, beating his teammates Shi Jingnan to second in one minute and 29.375 seconds and Wu Dajing third in one minute and 30.074 seconds.
Chinese skaters also swept the top three in the women's event as the 20-year-old Qu Chunyu timed in one minute and 38.087 seconds, edging Fan Kexin to second in one minute and 38.153 seconds and Guo Yihan third in one minute and 38.491 seconds.
"Our skaters did not gather around the national team for over one month and their training was also affected because of the National Winter Games. Shanghai Trophy provides us a good chance to tune up for the World Championship in Seoul next week, so we brough in our top skaters here," said Li Yan, the head coach of the Chinese national team.
The Shanghai Trophy also presented a mixed relay Sunday as skaters from different countries and regions were distributed into several teams.
China's Shi Jingnan and Xu Hongzhi took the men's 5,000m mixed relay gold medal at six minutes and 59.237 seconds, together with South Korean Lim Yongjin and French Lepape Sebastien.
The winners of women's 3,000m mixed relay were a team formed by China's Qu Chunyu, American Smith Jessica and two French skaters.
All the skaters spoke highly of the new event. Some said they hoped to participate in such events again in the future.