COLUMBUS, Ohio - The World Cup of Hockey will make a long-awaited return in 2016 in Toronto.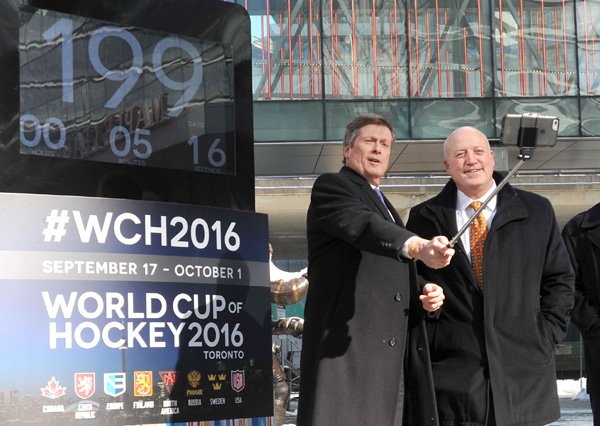 Toronto mayor John Tory (left) takes a selfie photo with NHL deputy commissioner Bill Daly beside a countdown clock unveiled during a press conference for the upcoming 2016 World Cup of Hockey at the Air Canada Centre. [Photo/Agencies]
And the NHL intends to host it every four years.
"We decided that bringing back the World Cup was vitally important," NHL Commissioner Gary Bettman announced on Saturday during the league's All-Star game weekend festivities.
"We believe after giving the event such a good start that we're going to build off it."
To begin with, it will feature eight teams, two of them made up of multinational players. One team will consist of North American-born players 23 and under. Another will consist of European-born players whose countries aren't represented.
The other six teams will be Canada, the United States, Russia, Sweden, Czech Republic and Finland.
The tournament will start on Sept. 17 and end with a best-of-three final series, with the last possible date set for Oct. 1.
The World Cup will overlap NHL training camps, and push back the start of the regular season to the second week of October.
The players' union is on board as a full partner.
The World Cup and its predecessor, the Canada Cup, have been held seven times since 1976 through 2004.
Bettman foresees holding the World Cup every four years and adding more countries.
The timing of the 2016 World Cup comes two years before the Winter Olympics will be held in South Korea. The NHL has not yet determined whether it will allow its players to compete in the Pyeongchang Games because of concerns over travel and time differences.
Canada has won five of the seven tournaments, with Russia winning in 1981, and the U.S. in 1996.
The one caveat players had is they don't want the World Cup to be held at the expense of competing at the Olympics, which NHL players have done since the Nagano Games in 1998.
"Olympics are Olympics," Slovenian-born Los Angeles Kings forward Anze Kopitar said. "I don't know if that would be a good trade off."
The inclusion of two mixed-national teams intrigued numerous players.
Some wondered how Canadians and Americans can set aside their longstanding cross-border rivalry.
"It definitely would be a little bit uncomfortable," said Calgary Flames rookie Johnny Gaudreau, who is from New Jersey. "But at the same time, it would be a great experience getting to play against guys who have been playing in the NHL for a long time."
There would be an even larger mix of nationalities on the European All-Star team, which has the potential to feature players from Slovakia, Germany and even Latvia.
"It will be different to see, but at the same time I'm open to it," said New York Islanders goalie Jaroslav Halak, who is from Slovakia. "I would say if it was 10 years ago, it would be upsetting, because 10 years ago, (Slovakia) had a lot of guys in the NHL. Right now, we got maybe 12."
Buffalo Sabres forward Zemgus Girgensons is the only Latvian in the NHL, and would be a candidate for the European All-Star squad. The one question that stumped Girgenons was which nation's anthem would be played before games.
"That is a good question. I didn't even think that far," Girgensons said. "Maybe flip a coin."