International events flock to the city known for its open business
Having already forged extensive and amicable international ties, the southern China gateway metropolis of Guangzhou, Guangdong province, is wooing organizers of top international events to consolidate its position as a major center for international exchanges in the world.
Its endeavors in the past couple of years have made admirable headway.
The city has held 30-odd international conferences and events in the past couple of years, as well as new ones, including the Bustoutiness Roundtable to be co-organized with the World Economic Forum in November and the World Route Development Forum jointly organized with UK-based UBM plc in 2018.
In addition, the city has this year won the heart of the Fortune Global Forum team. Both sides have recently announced their partnership for the 2017 Fortune Global Forum in Guangzhou late next year.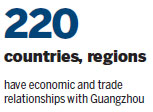 Guangzhou Deputy-Mayor Cai Chaolin deemed Time Inc's decision to host the event in Guangzhou a recognition of the city's economic and social development, as well as an expectation of its promising prospects.
He said that Guangzhou has vowed to improve its urban and business environment, to focus on an innovation-driven economy, to establish a high-level, open economic system and to turn the city into a major center for international exchanges.
The foreseeable target is to become a preferred destination for top international events, as well as for international tourism and cultural exchanges.
The city will at the same time seek to set up sister relations with more cites and launch representative offices abroad for further expansion of international friendship, the vice-mayor said.
Analysts said that Guangzhou has already done a good job in the field and has laid a solid foundation for an international exchange center, in terms of both infrastructure and expertise. They added that what will really arouse interest in the city are globally influential events such as the Fortune Global Forum, the Davos Forum and the G20 Summit.
"Hosting international heavyweights like the Fortune Global Forum means that global organizers feel positively about Guangzhou's overall capabilities, and marks a big step forward for Guangzhou on its way towards being one of the world's first-tier cities," said Lin Jiang, deputy director of the Hong Kong, Macao and Pearl River Delta Research Center at Guangzhou-based Sun Yat-sen University.
They will help the city get easier access to premium resources, running the gamut of capital, human resources, technologies, business models and information and management ideas globally, while enabling Guangzhou to identify its disadvantages, improve on its weaknesses and change the city for the better, Lin added.
"As a center of international trade for many centuries, Guangzhou is both a renowned symbol and a modern manifestation of China's participation in global commerce," said Alan Murray, chief content officer of Time and editor in chief of Fortune.
"Guangzhou's reputation is well known as a business-friendly city, one that has established economic and trade relationships with more than 200 countries and regions on five continents," he added.
He said Guangzhou's infrastructure, urban image and the expertise of the team in charge of the press conference and the roundtable in mid-September are "better than expected".
He added that the team is optimistic that there will be another successful and special forum in China in 2017.
Being China's only city that has never closed its door to the outside world, Guangzhou has hosted the China Import and Export Fair, more commonly known as the Canton Fair, the largest trade fair in China, since 1957. Its history of holding international conventions began with an Asia Pacific city summit in 1996.
Its exhibition industry ranked second in terms of comprehensive development in 2015 nationwide, according to a national industrial ranking released by the Ministry of Commerce.
Data from the International Congress and Convention Association shows that the number of international conferences ranked the city fourth in China, despite growing challenges from other big cities in recent years.
The city has seen an unprecedentedly busy calendar in the past two years, with more than 30 international meetings, a document from the municipal foreign affairs office showed.
zhuanti@chinadaily.com.cn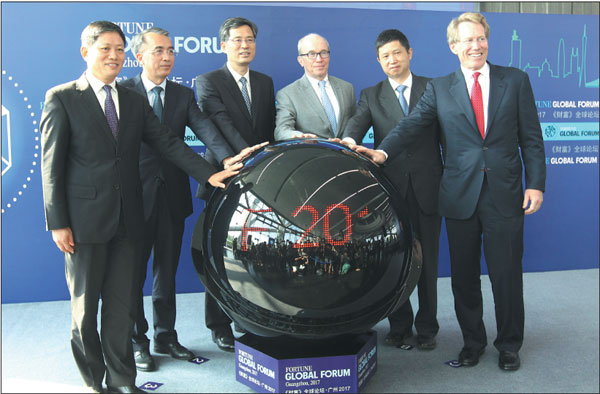 Government officials and their business partners mark the launch of the preparatory work for the Fortune Global Forum scheduled for next year in Guangzhou, Guangdong province.Province. Photos Provided To China Daily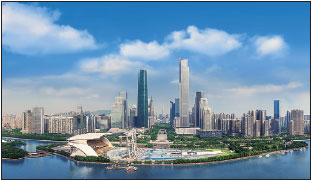 Guangzhou has hosted more than 30 international meetings over the past two years.