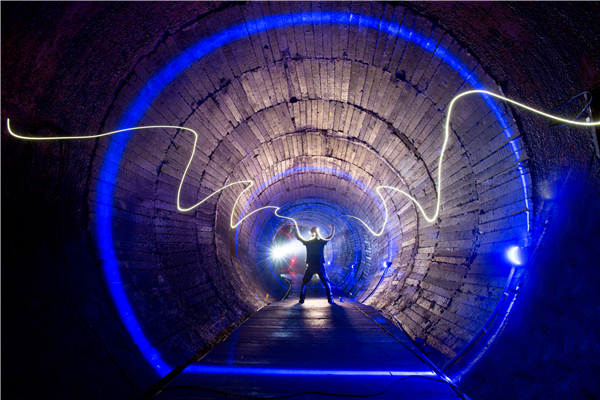 Visitors to the revamped 816 Nuclear Military Plant in Chongqing municipality will see scenes that look like science fiction movies.[Photo provided to China Daily]
Base in intricate maze of caves was designed to make plutonium in '60s; now it's a curiosity
A former underground nuclear base in Southwest China's Chongqing municipality reopened to visitors this week following a year of renovation work.
Now equipped with modern sound and lighting systems, 816 Nuclear Military Plant, once shrouded in secrecy, looks like a scene from a science fiction movie. It includes a nuclear science center and sections devoted to patriotic education and history.
The site, located in the mountains of Fuling district, was once an industrial base for raw nuclear material. It was reported to be the world's largest man-made cave, able to withstand a magnitude 8.0 earthquake.
The plant was declassified in April 2002.
In 2010, a small area of the plant was opened to Chinese nationals only. Soldiers guarded the entrance, and visitors were required to provide documents to enter.
"The site is now open to foreign visitors and will allow overseas partners," said Yang Yan, an administrator at the site. "So far, no foreigners have visited the plant."
Construction of the facility started in 1966 as part of the Third Front Movement, a national industrial development drive on the Chinese mainland. The country invested heavily in national defense, technology industries, transportation and other infrastructure in northwest and southwest regions.
The plant was built to produce plutonium-239, but Beijing stopped the plant from going into operation in 1984, when construction was almost complete.
"This base has never been put into operation or stored any nuclear material," Yang said. "There is no need to worry about radiation. It is safe to enter."
The plant has more than 20 kilometers of caves. It has 18 main caves and more than 130 roads, branch caves, tunnels and vertical shafts.
The largest cave, the nuclear reaction hall, is almost 80 meters high and 25 meters wide, covering 13,000 sq m, almost 10 percent of the plant's total.
The 17-year construction involved more than 60,000 soldiers. At least 100 died in the process.
"A tour takes three hours," Yang said. "Visitors must follow the guide; otherwise they will get lost in this huge mazelike cave."