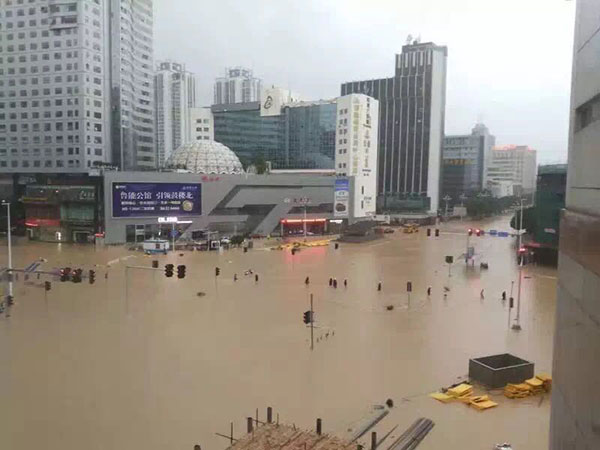 Streets in Fuzhou city are inundated in flood water as Typhoon Megi makes landfall in the southern province of Fujian on Wednesday. [Photo by Hu Meidong/chinadaily.com.cn]
SHANGHAI - China shut schools and cancelled dozens of flights as Typhoon Megi made landfall in the southern province of Fujian on Wednesday with winds of close to 120 km per hour (75 mph), Xinhua news agency said.
Megi, which has killed four people and injured more than 523 in Taiwan since roaring in from the Pacific, made landfall at 4:40 am local time (2040 GMT Tuesday). Chinese authorities issued their third-highest severe weather warning in anticipation of the storm.
Xinhua said more than 120,000 people who work close to shore or at sea have been moved by Fujian authorities. The province's 31,700 fishing boats have been recalled to port to avoid the high winds.
China Southern Airlines said it had cancelled 24 flights beginning from Tuesday.
More than 14,700 people were evacuated in Taiwan, while millions lost power and hundreds of thousands of homes were without water.
Typhoons are common at this time of year, picking up strength as they cross warm Pacific waters and bringing fierce winds and rain when they reach land.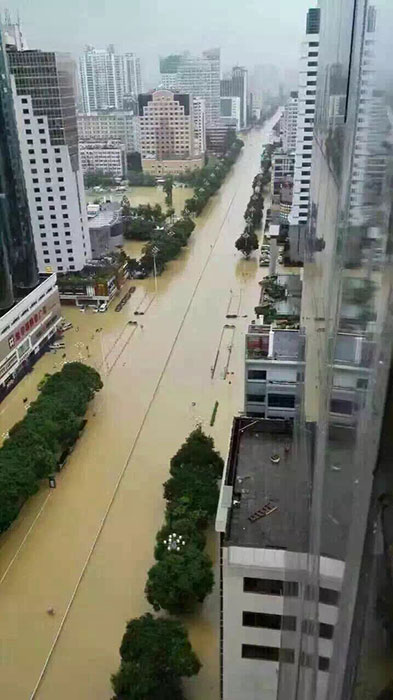 Streets in Fuzhou city are inundated in flood water as Typhoon Megi makes landfall in the southern province of Fujian on Wednesday. [Photo by Hu Meidong/chinadaily.com.cn]