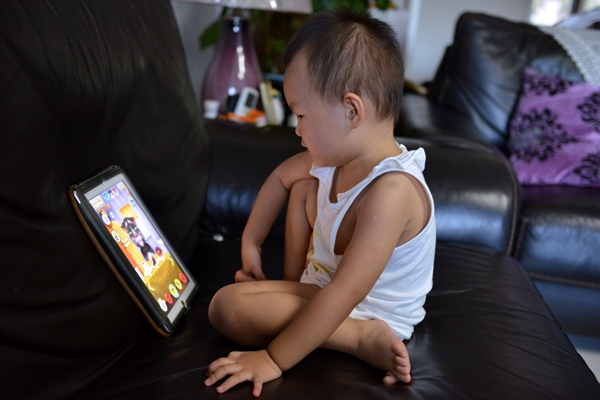 An 1-year-old baby plays a game on an iPad. Jiang Xiaoying/For China Daily
While some parents have expressed concerns about the amount of time their children spent surfing the internet during the summer break from school, it wasn't a problem for Yin Qiming.
Instead, the 37-year-old Shanghai resident and his daughter divided their vacation between cyberspace and the 8-year-old's other interests.
"My daughter has many hobbies and I and her mother respect her choices, so we accompany her to classes she enjoys, such as learning to play the drums and drawing," he said.
"She loves to play outside with her friends, so she doesn't think the internet is a must-have thing in her life."
Yin added that he rarely imposes a time limit on his daughter's online activity.
"She sometimes uses WeChat (a popular instant-messaging tool) on my mobile phone, but only to contact her mother," he said. "Once she has her own plans every day and realizes that the internet is just a part of life, she won't become addicted to it."
Li Lin, a primary school teacher from Liaoning province, expressed a similar opinion.
"We do some homework online, including reciting stories, and the children use the internet frequently every day of their lives," she said, noting that the children's online activity is limited to 30 minutes a day at school.
"We should make better use of the internet to provide children with more knowledge and help them to grow up," said Li, who has a 10-year-old son.
The key to preventing children, especially those at primary and middle schools, from becoming addicted to the internet is to limit the time they spend online and to ensure that they know cyberspace cannot replace traditional forms of communication, she said.
Mao Feizhu, a psychologist from Fujian province in southeast China, said people overestimate the influence of the internet.
"Many people, even some parents, believe the internet plays a big role in our daily lives, and many things can be completed online, but that's not completely right," she said.
"We can use social applications to talk or play basketball games, and even share what we are thinking about, but sometimes it's impossible for our emotions to be accurately reflected in this way.
What children need is emotional communication and real physical exercise. After all, love cannot be bought on the net," she said.
Mao said the best way to stop young netizens spending too much time online is to encourage their other interests but also accompany them when they go online: "We should use the internet, not become its slaves."