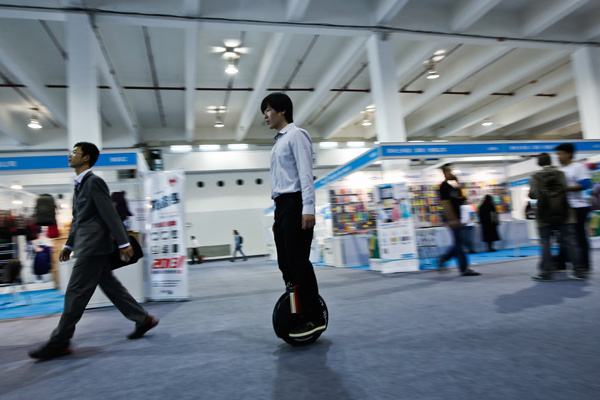 A visitor tries out an electric self-balancing scooter during an event at the Shanghai International Exhibition Center. [Photo/provided to China Daily]
Beijing has banned electronic scooters and segways on public roads amid tightened regulations on new transportation tools growing in popularity in many provinces, the Beijing Evening News reported on Monday.
It said anyone who used electronic scooters or any kind of segways on public roads would be fined 10 yuan ($1.5) and ordered to not use it again.
Many majority cities show a sign of cold shoulders to the newly-updated riding tools as Shanghai, Wuhan, Guangzhou, Chengdu and other cities consider it as an illegal act to ride electronic scooters or segways on the road.
According to China's Law on Road Traffic Safety, the transportation tools that glide don't own "right of way", meaning they are not permitted to be ridden in bicycle lanes or vehicle lanes. It can only be used in a closed community road or indoor venues.
The fine ranges from 5 to 50 yuan based on different situations.
The reason the scooters have been banned is because the tools have a significant maximum speed of 30km/h and brakes that may not work well, causing potential safety issues in the traffic.
According to the traffic police, people who ride electronic scooters with certain can either easily bump into the vehicles on the vehicle lane or hurt pedestrians on the bicycle lanes.
As justified as it sounds like, the ban may see a slow progress in stopping people from using those tools as those tools are more as part of their daily life than just innovative toys.
In daytime, people who currently use the electronic scooters or segways are commuters who prefer a convenient and a fast way to work amid the frequently jammed traffic.
At night, people moonlighting as the designated drivers use scooters to go to the places where clients who are drunk are and drive their cars back when putting in the scooters in the trunck.
On Aug 27, traffic police in Shanghai have dealt with three cases of illegally using electric scooters on motor roads.
There have been reports in Beijing and Shanghai of people being injured or even killed while using electric scooters.
In 2015, a driver of an electric scooter was sentenced to a prison term and fined 650,000 yuan (around $97,500) after fatally hitting a man in Shanghai. Reports say the reason for the accident was that the driver failed to brake in time.