Heavy-lift rocket sets off to Hainan for debut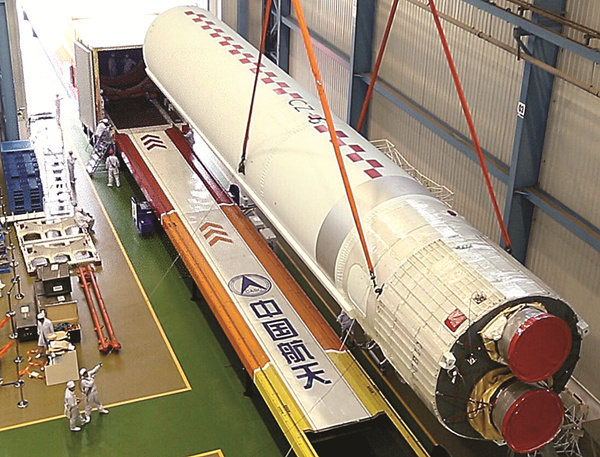 The Long March 5 carrier rocket is loaded onto a cargo truck at an unspecified assembly plant. [Photo/Xinhua]
China's heavy-lift Long March 5 carrier rocket started its sea journey on Friday to the Wenchang Space Launch Center on the island province of Hainan to prepare for its debut flight, according to the nation's space authority.
The rocket, the nation's strongest and most technologically advanced launch vehicle, left Tianjin's port in the morning and was being transported by the Yuanwang 21 and Yuanwang 22 space ferry ships, the China National Space Administration said.
The Long March 5 is scheduled to make its first flight around the end of the year and will enable China to put its future manned space station into orbit and send unmanned probes to Mars, the agency said in a news release.
As the nation's first-generation heavy-lift rocket, the Long March 5 has a liftoff weight of 869 metric tons and a maximum payload capacity of 25 metric tons in low Earth orbit and 14 tons in geosynchronous transfer orbit, roughly comparable to those of the United States Delta IV and Atlas V rockets.
The rocket will use liquid oxygen/kerosene and liquid oxygen/liquid hydrogen as propellants for its engines, which means the spacecraft will be friendlier to the environment than previous Chinese rockets, according to the rocket's developer, the China Academy of Launch Vehicle Technology.
It has taken researchers 10 years to develop the rocket after nearly 7,000 tests, the academy said.
Engineers will develop six configurations for the Long March 5 family, with each having different launch capacities, said Wang Jue, head of the Long March 5 project at the academy.
China's multibillion-dollar manned space program, a source of increasing national pride, aims to put a permanent manned space station into service in 2022. It will consist of three parts — a core module attached to two labs, each weighing about 20 metric tons.
Moreover, the academy has begun to develop a super-heavy rocket that will have a takeoff weight of 3,000 metric tons and will be able to thrust a 100-metric-ton payload to low Earth orbit.
If research and development proceed well, the super-heavy rocket will carry out its first flight around 2030.