"If you spend some time with the patients, you will find that they're not terrible people. Just like us, they have their ups and downs, and they don't want to be lonely," said Luo Chengjun, a social worker in Shenzhen, Guangdong province.
Luo's job involves assisting patients who have left hospital, so he meets with three or four a day, at their homes or places they find convenient. From keeping a record of their medication to conducting simulated job interviews, Luo tries every possible method to help them to re-engage with society.
However, his assistance has not always been received well, at least not at the beginning.
"In one case, it took three months before the patient spoke to me. I almost burst into tears when it happened," the 31-year-old said. "And sometimes, they trust us so much that they share secrets they don't tell their families."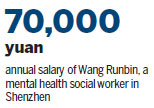 The perceived stigma means some families don't want the social workers and medical staff to visit their homes too often, so Luo meets with patients in cafes, parks or even supermarkets.
Mental health workers also face social pressures.
"At first, my family and friends also thought it might be dangerous to be a mental health social worker. But now they know it is a truly meaningful job and are very supportive," said Zhao Junhua, a social worker with Kangning Hospital, Shenzhen's only facility dedicated to the treatment of mental illness. She is one of 52 registered mental health social workers employed by the city's community services and hospitals.
According to Yuhwa Lu, associate professor of social work at New York University, an inclusive approach is essential: "Compared with social workers in other fields, mental health social workers should be more culturally sensitive. It helps a lot to know the client's values and background."
In July, Lu, who founded the Pacific Education, Advocacy, Research and Learning Institute of New York, delivered lectures at a five-day workshop for Shenzhen's mental health social workers.
"The concept of social work originated in the West, so it is important for Chinese practitioners and academics to adapt the ideas to fit the local environment," she said.
For most, the low salary is a more pressing problem.
Wang Runbin, a social worker at the Dandelion Clubhouse, a rehabilitation center in Shenzhen, makes 70,000 yuan ($10,500) a year, about 25 percent his salary in his previous job.
The 31-year enjoys spending time with the patients, but he conceded that he probably would have resigned if he hadn't been supported by his wealthy family.
"It takes a long time to build trust with the patients, and it's bad for them if their social worker changes frequently. However, people have families to support, so many just come and go."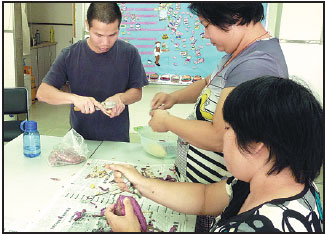 Members of the Dandelion Clubhouse prepare a meal at the community rehabilitation center for patients with mental health issues in Shenzhen.Chen Yuanhua / For China Daily