A national online system to search for the property information of people who have failed to carry out court judgments is taking shape, an official of China's top court said on Wednesday.
The system, which will cover all regions of the country, aims to help courts discover what property and other assets are held by defaulters, with a view toward liquidating them to enforce monetary judgments, according to Jiang Bixin, vice-president of the Supreme People's Court.
"Our goal is to figure out various property information through the system, including defaulters' lands, houses, savings, financial products, securities, stocks and vehicles," Jiang said.
Meanwhile, every court is required to increase connectivity with other courts, making sure each step of verdict enforcement is transparent and taken without delay, he said.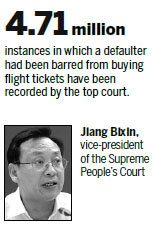 In June 2015, the system was opened at courts in seven municipalities and provinces, including Shanghai. Now, more than 3,500 courts across the country are connected, the top court said.
The number of banks linked to the system has also grown to more than 3,000 from the initial 20, and searching has expanded.
Enforcement is also taking place. For example, a lawsuit against a Beijing development and construction company over its late payment of engineering fees was decided against the company. But the company did not pay.
To enforce the judgment, Beijing No 1 Intermediate People's Court judge Liu Jinlong ordered the auction of three properties owned by the company in the city's Chaoyang district. Funds received from the sale were used to settle the debt.
To speed up verdict enforcement, the top court established a website to disclose the information of defaulters in July 2013. The names of defaulters in more than 5 million cases have now been posted online, Jiang said.
The top court has also joined hands with various government departments to pressure defaulters to comply by creating inconveniences in some other areas of life, such as buying railway and flight tickets, and applying for loans.
As of Aug 31, the court had recorded 1.55 million instances in which a defaulter had been barred from buying a train ticket, and 4.71 million instances for flight tickets, the top court said.
caoyin@chinadaily.com.cn
(China Daily 09/29/2016 page4)