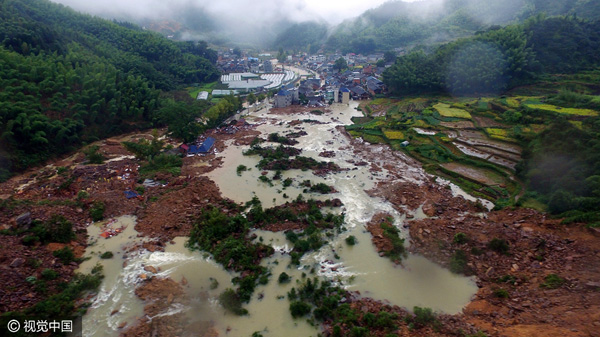 An aerial view of the landslide site in Sucun village in Suichang county, Zhejiang province, on Sept 29, 2016. [Photo/VCG]
HANGZHOU - Fifteen people have been rescued and 26 are still missing after a landslide triggered by typhoon rain, in a village in the eastern province of Zhejiang, provincial government said Thursday.
The landslide occurred around 5 pm Wednesday in Sucun village in Suichang county, following a heavy downpour brought by Typhoon Megi. Some houses in the village, about 37 kilometers from the county seat, were destroyed and the structures were swept away.
Meanwhile, thousands of people were relocated, as roads and streets were flooded. Megi made landfall in Fujian province on Wednesday morning, killing at least one person and leaving a trail of destruction.
Four people were killed in Taiwan as the typhoon crossed the island on Tuesday.
Megi, the 17th typhoon this year, brought downpours to the coastal areas of Fujian as it packed winds of over 118 km/h, according to meteorological authorities.
The typhoon also forced the relocation of 122,600 people in Quanzhou.
The one person who died was killed as the downpour triggered a flash flood and hit his residential compound in Dehua county on Wednesday.
In Fuzhou, the provincial capital, the typhoon brought downpours that flooded streets and left thousands of residents stranded in their homes.
"I was expecting a downpour with the typhoon, but I did not expect the floods on the streets would linger for such a long time," said a nurse from Taijing Hospital in Fuzhou, who would only provide her surname, Xu.
Some communities have offered residents free rides in rubber boats to commute out of their flooded communities to work places, hospitals, railway stations or airports.
The Fuzhou airport canceled more than 100 flights in and out of the airport in response to the typhoon, and the provincial railway authorities canceled about 100 trains.