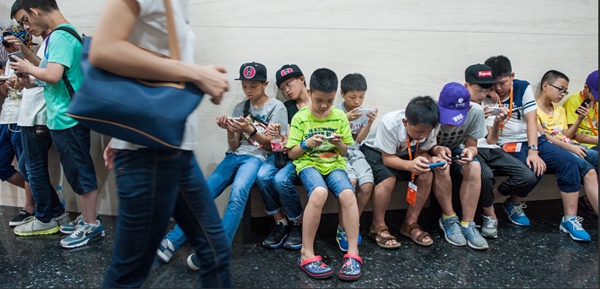 A group of primary school students play with their smartphones while visiting a museum in Beijing. Wang Weiwei / For China Daily
Many people are becoming increasingly concerned about the amount of time their kids spend surfing the internet, and the suitability of the websites they visit. Cao Yin reports.
Ji Keyan loves surfing the internet, even though the amount of time he spends online sparks frequent arguments with his mother.
"I enjoy learning and searching cyberspace for information about the things I'm most interested in, such as basketball, but my mom is unhappy whenever I stare at my smartphone for a few hours," said the 12-year-old primary student from Haicheng, a city in Liaoning province in northeastern China.
Recent reports suggest that Ji is not alone, and most children his age go online regularly.
A report published by the China Internet Network Information Center in July found that about 25 percent of China's 710 million internet users are age 19 or younger.
The report said the number of children age 10 or younger who regularly surf the net exceeds 20 million, and the age at which youngsters are accessing the internet is falling.
Tong Zongke, who works at a college in Beijing, said his 6-year-old son often uses his mobile phone to play games online.
"The boy has no awareness of what the internet is, but he has shown a passion for it, and has mastered many mobile skills," said Tong, who has set up a password on his phone to ensure that his son can't use it without his permission.
A survey conducted in June by Qihoo 360, China's largest provider of security software, said online games were the most popular web-based activities for school students.
Twenty-five percent of the 3,000 respondents younger than 18 said they spend more than five hours a day surfing the net. In addition to playing games, they watch videos, listen to music, search for information and chat via social-networking applications, the survey said.
Net addiction
Lyu Cong, Ji's mother, said she becomes annoyed when she sees her son sitting on the sofa endlessly playing with his smartphone.
"I don't know what attracts him to the virtual world, but I'm worried that his studies will be affected and his eyes will be damaged if stares at the small screen for too long," said the 35-year-old telecom company employee.
Ji said he only uses the internet to access information about NBA superstars. "I'm addicted to basketball. I really want to know everything about the sport and the stars' stories, as well as playing the game at school. Online information and hot issues are the main topics of conversation for me and my classmates. Anyway, I only go online after I've finished my homework, so I don't think it's a waste of my time," he said.
From Lyu's perspective, however, her son's constant smartphone use has driven a wedge between them. "I have to shout at him several times and tell him to put the phone down because I think he has spent too much time online, but he seems to be deaf and just ignores me," she said.
She first bought Ji a smartphone when he was about 5 or 6, "because I wanted him to have a convenient way to contact me or his father, and also so we could be informed immediately in the event of an accident or an emergency.
"His father and I are busy every day, and I have a lot of housework to do when I get home from work. At first, I thought the smartphone was a good idea and that it would help him to play by himself and learn about advanced technology. Now, I'm beginning to wonder if I was wrong," she said.