The ambition to possess a network of international hubs has helped to lift the appeal of the business-friendly city of Guangzhou, Guangdong province, to investors. This is most clear in the rapid growth of capital input in 2015, as well as in the first half of this year.
Statistics from the city's Municipal Commission of Commerce show that the city posted 59,425 newly registered enterprises in the January-June period of this year, an increase of 23 percent from a year ago. Their registered capital reached 312.08 billion yuan ($46.8 billion), up 9.3 percent.
Thirty-four of them have each registered capital exceeding 1 billion yuan, and six are funded by Fortune Global 500 companies, with their total investments adding up to 27.21 billion yuan.
Guangzhou recorded 101,580 newly registered enterprises in 2015, up 25.1 percent from 2014, with 576.78 billion yuan in registered capital, a surge of 57.7 percent. A total of 62 enterprises had each registered capital surpassing 1 billion yuan last year, official statistics indicate.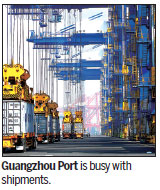 "This achievement is remarkable amidst the global economic slowdown and investors' cautiousness these days. Nevertheless, Guangzhou will hopefully sustain its bullish momentum," noted Hubert Xu, president of Guangzhou CDC Group, a firm offering integrated professional services to foreign investors, many of whom are in the Fortune Global 500.
He also serves as a senior advisor to the Guangzhou International Investment Board, the city's think-tank for investment promotions.
Xu based his upbeat analysis on the positive effects the city's ongoing endeavors will exert on its goal of growing into a metropolis with a network of international hubs, with an emphasis on shipping and aviation, as well as scientific and technological innovations.
The demand for investment, especially for hub projects and those related to industrial chains, has been intensifying, Xu said. He added that industrial leaders, and the world's Fortune Global 500 conglomerates in particular, have enjoyed prioritization, as well as every advantage to benefit from the city's burgeoning business opportunities.
"When key industrial players are mustered in one base or another, they will help the city to pool top-notch resources, including high-caliber professionals and vanguard technologies, while getting real-time access to innovative business models and industrial information."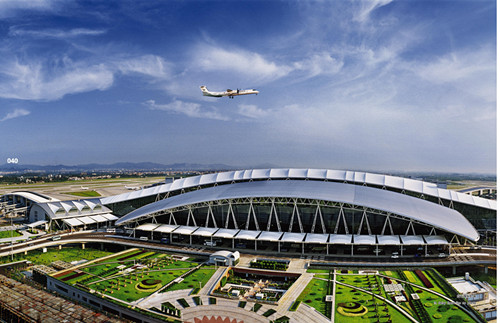 Guangzhou Baiyun International Airport [Photo provided to chinadaily.com.cn]