The Poya-Songbook-Chorus, a gold prize winner at the 2016 Ninth World Choir Games, has grown into "the highest standard for Yunnan Zhuang ethnic choruses".
The comment came from the former president of Minzu University of China, a top ethnic university.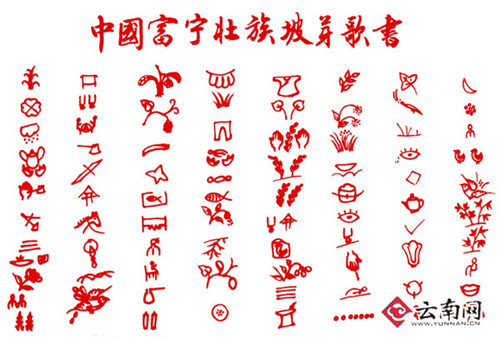 The red Poya songbook. [Photo/ynci.cn]
A doctoral supervisor of Tsinghua University said the chorus will change one's opinion on written characters. It also gifts one more elegant cultural heritage to the world.
The songs had echoed in the peaceful village of Poya in Yunnan for centuries before they were eventually found in 2006 by a team sent to the area to search for local culture and arts.
The Poya songbook is a small piece of cloth with red pictograms on it. Each of the 81 pictograms is written by cactus juice and symbolizes a Zhuang ethnic folk song.
The songbook reflects the Zhunag ethnic group's outlook on the world and its attitude towards life and love. It encapsulates values important to anthropology, folklore, philology and musicology. The chorus was listed in 2011 in the third group of national-level intangible cultural heritages.
The 14th China Central Television youth singer competition presented the chorus to millions of Chinese viewers. The chorus's "tough high pitch", unpleasant to some, has since been changed in a good way.
The chorus was formed in 2012 to add more harmony to its original Poya songs. Better stage performances and stronger musical appeal were created.
The chorus went abroad for the first time in 2013 and delighted its audiences at US colleges including the University of Hawaii and Confucius Institutes with several excellent performances.
Its debut at the first Chinese Ethnic and Folk Music Week received great applause from China's most famous choral conductor, Yang Hongnian. He praised the songbook as a distinct Chinese cultural phenomenon.
Poya village has seen great changes as its Chorus acquires world-wide fame.
It became a provincial-level ethnic cultural village in 2013. Cultural squares, stages, cultural walls and a Poya songbook school were built, greatly improving the villagers' living conditions.
Yunnan is now adding the chorus to its two other cultural brands, the "Yunnan Dynamic" and the "Sounds of Nature in Yunling".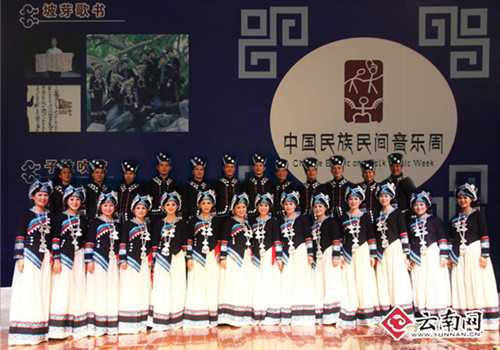 The Chorus poses at ethnic music week of 2014. [Photo/ynci.cn]

Poya village. [Photo/ynci.cn]
Edited by Peter Nordinger