China Daily website is inviting you to share Chengdu Story with us! and here are some points that we hope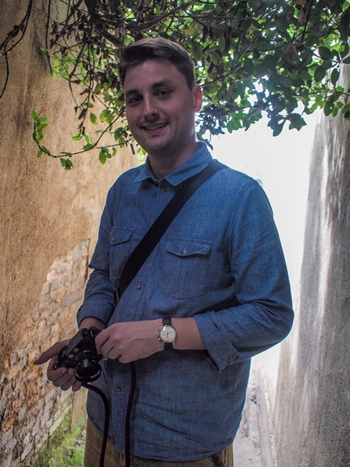 Rob, waiguoren (foreigner)
When you hear about Chengdu, you might immediately think of pandas, majong (麻将), hot-pot or other red-colored spicy food, which lets your mouth go numb like a visit to the dentist.
You might also think of a city known for its more relaxed surfer-like lifestyle, with its many parks where you can hang-out between tall, green, cooling bamboo poles and enjoy a fresh cup of tea and some "liang mian" (凉面) noodles letting time pass without regrets.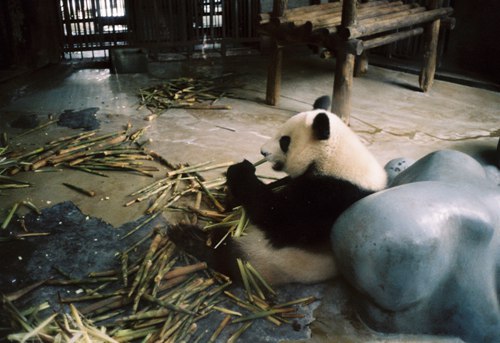 Chengdu's famous pandas … just hanging out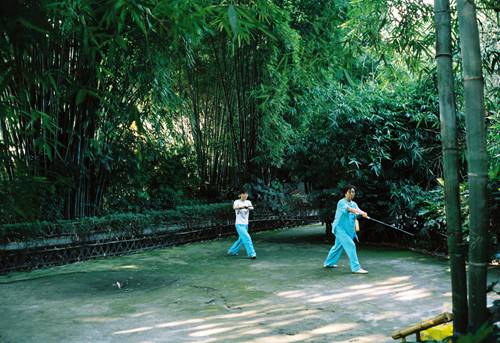 The many parks with their bamboo trees provide a great place for exercises in the shadow.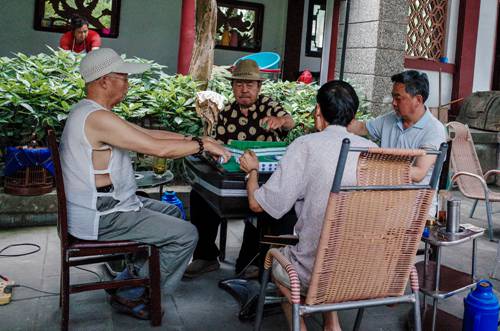 Majiong is probably the most famous "sport" played in Sichuan... people literally can play for days.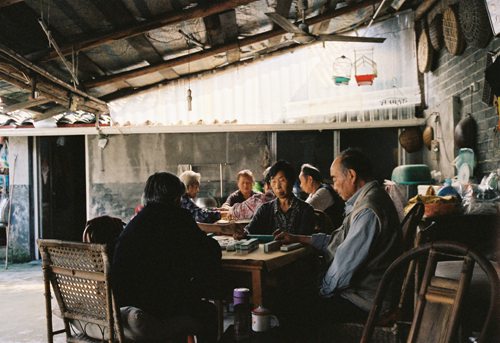 Really everyone is playing it...no place you will not hear the typical click sound of the majong stones.
But if you come here, you will also find a multi-million metropolis with many skyscrapers, futuristic architecture and traffic jams.
When I moved to Chengdu a couple of years back, all of this was (and still is) very attractive.
Over time, however, I realized that the true treasure of Chengdu is its surrounding villages and breathtaking nature.
I am always amazed how fast you can enter a completely different world, sometimes letting you feel like a time traveller, who went back in time with just a 30 minutes car ride.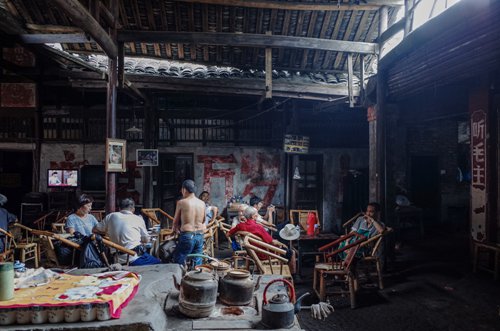 A tea place, which probably has not changed for many decades … except the TV.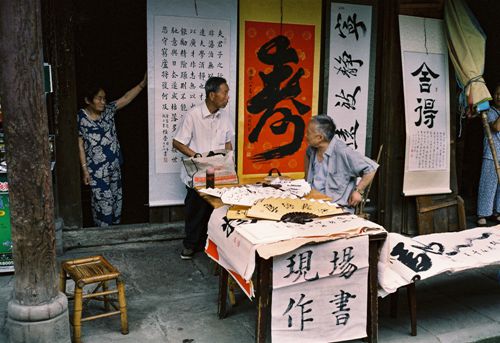 It's often the more "elderly" people who are living in the villages keeping some of the Chinese traditions alive.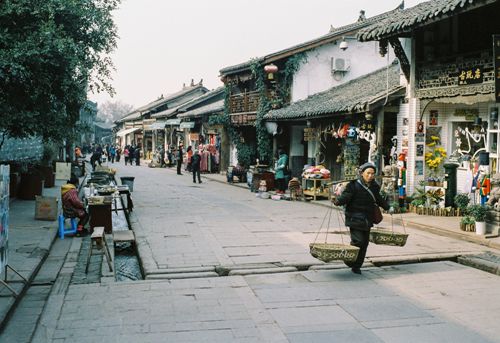 Many villages will show the traditional architecture...what is offered in the shops is more 21st century, however.
The people in the countryside are very friendly, down to earth and hospitable.
As a foreigner, you need to expect a "hello" shout now and then, mostly from middle-aged men (which is strange, but turned out to be a statistical certainty). If you reply with a "nin hao" (您好) you will have won their heart.
It might also happen that you as a tourist and visitor of the local attractions will become the attraction and photo opportunity yourself, posing with families for a quick shot on a smartphone.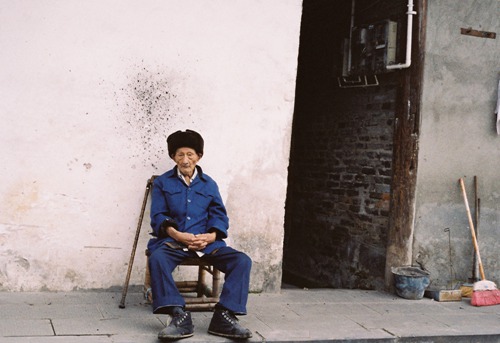 This yeye (grandpa) is enjoying the afternoon checking out the waiguoren (foreigners) passing by.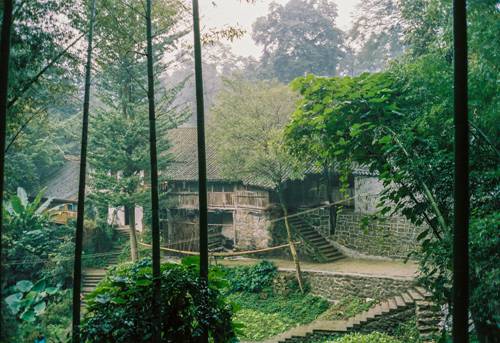 Some more remote and calm place close to a buddhist temple.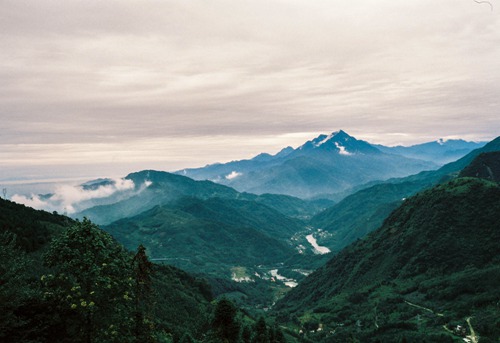 Blue sky is a rare sight in Chengdu … but nature is still breathtaking.
You will find calm and peace in a lot of the surrounding mountains, but it is not a guarantee as Chinese love their entertainment and "renao" (loud and lively) atmosphere. So it happened that when I visited the famous hot springs of Mount Qingcheng, I was preparing for a relaxed hot bath on a late summer night, enjoying the stars under a clear sky. Did not expect that there was also an open air cinema hot spring, which played the latest Kungfu movie with bursting loudspeakers. But that is part of the experience and makes those moments unforgettable and fun.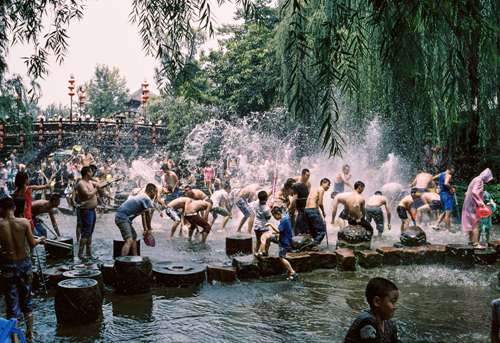 An example of some "renao" activity … it was actually a very idyllic village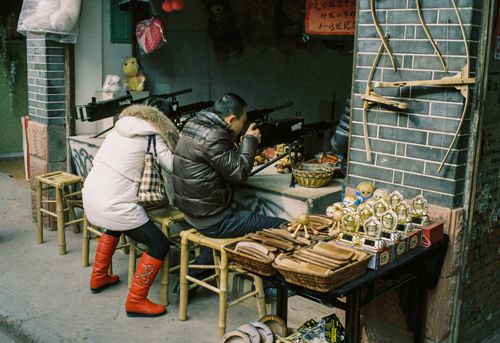 There is always some entertainment opportunity waiting around the next corner.
Some tourists enjoying the excitement of this unusual bridge.
I could go on with more tales, examples, and events, but will just give some of the many places I would recommend visiting:
Mount Qingcheng(青城山), Ba Jiao Gou (芭蕉沟), Jia Yang (嘉阳), Luo Dai Gu Zheng (洛带古镇), Xi Chang (西昌), Dayi Liushi Manorial Museum (大邑刘氏庄园), Liu Jiang Gu Zheng (柳江古镇), Pu Hong Lu (蒲虹路), Ling Yan Shan (灵岩山), Peng Zhen (彭镇), Tian Tai Shan (天台山)...
And in case you want to know a bit about me. I am a German-born Austrian, living in China for over 6 years now. I started my business inheritage | 忆珍 a couple of years back in Chengdu, selling European products for ladies & gentlemen. I love photography and enjoy capturing this exciting city and its people. If you want to have a beer with me, please let me know!
Cheers.
The opinions expressed do not represent the views of the China Daily website.
[Please click here to read more My Chengdu Story. You are welcome to share your Chengdu stories with China Daily website readers. Please send your story to chengdu2016@chinadaily.com.cn]