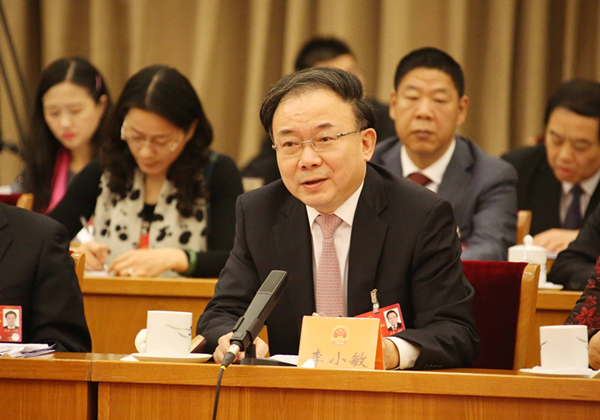 Speaking at the fourth session of the 12th National People's Congress in Beijing on March 7, Wuxi Party secretary, Li Xiaomin, lays out his vision for the city's future industrial landscape.
Industry is an economic lifeline for a city, which determines Wuxi's economic strength and status.
From the Western Zhou Dynasty (11th century-771 BC) to the Spring and Autumn Period (770-476 BC), the handicraft industry and commerce around Wuxi and the Taihu Lake basin had already begun developing. The Ming (AD 1368-1644) and Qing (AD 1644-1911) dynasties saw further development of the handicraft industry in Wuxi.
In modern times, in particular, Wuxi has achieved remarkable success across industries, ranking third in China in gross output value after only Shanghai and Guangzhou, and second in the number of industrial workers after Shanghai. In 1980s, Wuxi's township enterprises emerged, making Wuxi the birthplace of the Chinese national commercial business and township enterprises.
Wuxi entrepreneurs have built many famous brands, thanks to their can-do attitude, spirit of excellence, perseverance and innovation.
Wuxi people's craftsmanship spirit of striving for the best contributed to the city's commercial culture and brilliant achievements, and will lay a foundation for its industrial revival.
2016 is the first year of the 13th Five-Year Plan (2016-2020) and a crucial time for structural reform on the supply front. It was stressed by President Xi Jinping at the 11th meeting of the central finance and economy leading group on Nov 10, 2015 that China should strengthen this area to increase the quality and efficiency of supply system and provide impetus for growth and sustainable economic development.
In the spirit of the two sessions this March, Wuxi will cut excessive production capacity, downsize property market inventories, deleverage to guard against financial risks, help companies reduce costs, and improve weak links to expand effective supply. This move will raise the quality and efficiency of economic development, guided by the new concept of development, that is, innovation, coordination, green, opening and sharing.
The city will carry out the innovation-driven strategy and make Wuxi stronger in industry. It will build a modern industrial development system with emerging industries as the leader, advanced manufacturing industries as the main body and the modern service industries as the support. It will build the market-oriented technological innovation mechanism for scientific and technological reform and build the new standard of modern industries, featuring intelligence, green, service and advanced development.