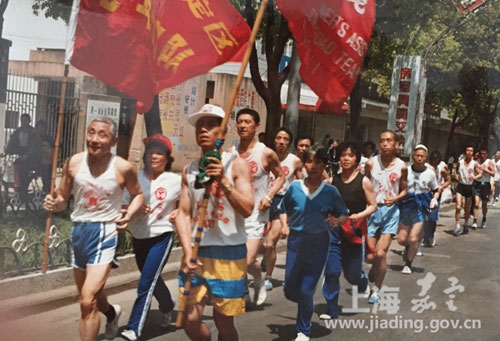 File photo: Zhu Jialiang (left) joins a running activity. [Photo/jiading.gov.cn]
There are a group of elderly people you can come across to in various running activities in Shanghai. They are not professional athletes or physical training coaches. They are just running enthusiasts from the Jiading Senior Citizen Running Team.
When you meet energetic and sharp-minded Zhu Jialiang, you would not believe he is 85 years old. As the oldest member of the running team, Zhu started running when he was 20 years old. Getting used to get up early in the morning, he keeps a habit of running four kilometers every day for more than 50 years.
Thanks to the exercise, Zhu has never suffered from high blood pressure, hyperlipidemia or hyperglycemia. Nowadays he follows his doctor's advice to walk fast instead of running. "Though I am not young, I will not give up my habit; I will feel uncomfortable if I do not walk outside for one day," he says.
Wang Xuelong, the leader of the running team, is also fond of exercising. At a half marathon competition attended by more than 18,000 people, Wang ranked 1,100th. It was an admirable result for a 65-year-old. Apart from running, he is good at pull-up and single-handed push-up. He is proud of being recognized as an exercise "addict".
Since Wang became a well-known fitness expert in his residential community, some young people have joined his team and lost weight. He also bought a stereo for local residents to square-dance every day.
As for the old members of the running team, life would be meaningless if they cannot do exercise. Exercise is neither for showing-off nor a task. "Try your best and find the way that makes you most comfortable; and this is the essence of exercise," Zhu Jialiang stresses.