In today's trending,  an imperfect 100 yuan note worth 1.5 million yuan, awoman tests feces flung at her window for DNA, armless student applies for more time to take Gaokao and school has taken on an innovative teaching project by planting a wheat field as a greenbelt.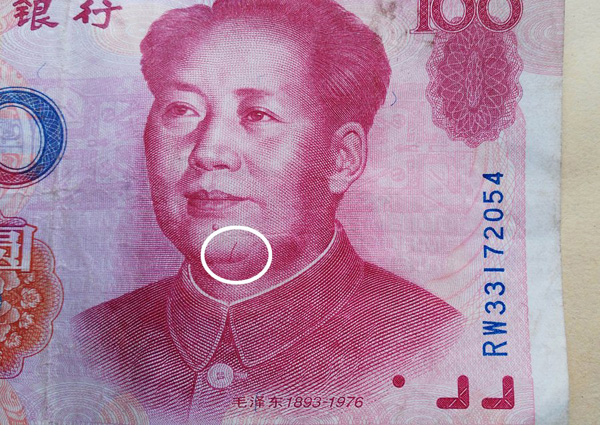 The imperfect 100-yuan banknote of Mr Zheng has an additional line in the portrait. [Photo/CFP]
This 100 yuan note is worth 1.5 million yuan
When Mr Zheng got an 100 yuan ($16 dollars) note with a printing mistake three years ago, he never expected it would be worth a huge sum, according to a report of Chongqing Evening News on Thursday.
The 100 yuan note features Chairman Mao Zedong on the front, just like any other RMB banknote. But what separates it from the others is a short line on the jaw of the portrait, right under the mole of the late leader.
It wasn't until recently that Zheng learned that a man in Guizhou province has a similar banknote worth one million yuan. So he brought his banknote to an auction house for evaluation, and was surprised to know the banknote is worth 1.5 million yuan ($240,000).
These imperfect banknotes are highly valued among collectors because of their rarity.