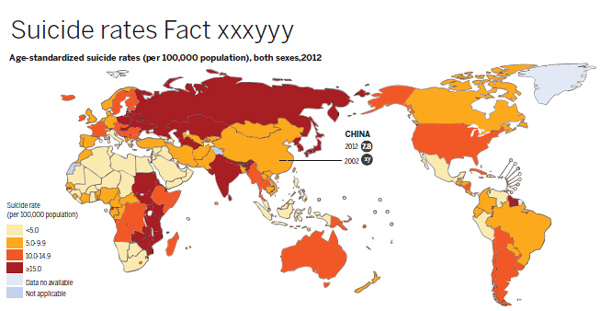 The rate of suicide is falling in China, and while experts attribute the decline to a number of causes, the large-scale urbanization that has taken place in recent decades is being hailed as a major factor, as Yang Wanli reports.
In the past three decades, many Chinese people have moved from rural areas to the cities in search of work, a process of urbanization that has helped transform China into the world's second-largest economy, providing jobs and raising the standard of living for millions of people.
Urbanization may also be responsible, at least partly, for a recent dramatic decline in the number of suicides in China, according to experts. In the past 10 years, the number of suicides has fallen so steeply that the country, which used to sit near the top of the global list, now has one of the lowest rates in the world. Many observers have attributed the decline to the sharp fall in the number of women committing suicide, especially in rural areas.
China's suicide rate fell from 19.4 per 100,000 people in 2000 to 7.8 per 100,000 in 2012, according to World Health Organization statistics. The 2000 figure was far higher than the 13 per 100,000 that WHO uses as a benchmark for countries whose suicide rate is officially classified as "high".
In 2002, Michael R. Phillips, a Canadian psychiatrist and executive director of the WHO's Suicide Prevention Center in Beijing, released a report that showed China's suicide rate had reached 0.023 percent, ranking the country among those with the world's highest suicide rates, and suicide was the leading cause of death for young adults ages 15 to 34.
Based on research conducted between 1990 and 1995, Phillips' report, which was published in the UK medical journal The Lancet, suggested that rural suicide rates were three times higher than those in urban areas, and women accounted for 25 percent more suicides than men - making China one of the few nations with that distinction.
Li Xianyun, director of the Suicide Prevention Center at the Beijing Huilongguan Hospital, believes that a steady and sizable decline in the number of suicides among women in rural areas has been a major reason for the reduction in the overall rate.
"The female suicide rate has declined remarkably since the early part of this century. In fact, it's now almost equal to that of Chinese men. The change is even more obvious in the rural areas," she said.
In 2003, the suicide rate among women in rural areas was 17.44 per 100,000 females, higher than the figure for men, which was 15.07 per 100,000 males, according to the China Year Book of Health, published by the National Health and Family Planning Commission.
In 2012 - the latest figures available from the commission - the rural rate stood at 9.09 per 100,000 for men and 8.05 per 100,000 for women.